---
Nuremberg Cruise Port Directions
Page 3
Continued from Page 2
From Nuremberg's city center to your ship: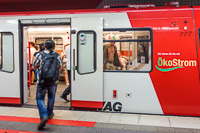 Your journey to the port begins at Nuremberg's Hauptbahhof, or main railroad station, which is just outside the walls of Mitte (the old city).
Follow the white-on-blue "U" signs for the U-Bahn (subway) and look for the multilingual red ticket machines.
Buy a single-journey ticket for "Preisstufe A" or "Tarifstufe A," which will be valid for your entire trip to the port.
Go to the platforms for U-Bahn line U1 and catch a train toward Langwasser Süd.
For more information on U-Bahn, tram, and bus travel in Nuremberg (including an interactive journey planner), visit www.vag.de/en.
---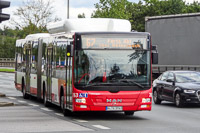 Six minutes after boarding the U1 train, get off at Frankenstrasse.
Transfer to Bus 67 in the direction of Fürth Hbf, using your existing ticket.
---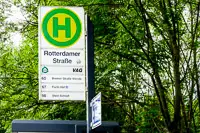 Get off the bus at Rotterdamer Strasse. (The bus trip takes about eight minutes.)
---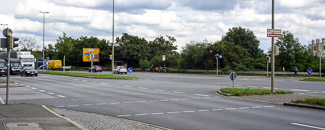 Walk to the corner (only a few steps from the bus stop), cross the street, then cross it again toward the bus stop on the opposite side of the street and the yellow sign.
Don't be intimidated by the width of the street or the traffic. Just press the buttons by the crosswalks and wait a few seconds for the signals to change.
---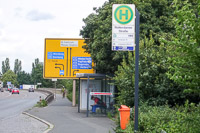 After you've crossed the street twice, walk straight ahead (past the bus stop and the yellow traffic sign) toward the bridge over the Main-Danube Canal.
---

This panoramic photo shows a view of the cruise port from the bridge, with the curving road that leads down to the waterfront.
---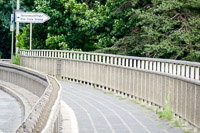 Cross the bridge.
Next, turn right at the white "Personenschifffahrt / River Cruise Terminal" arrow sign and follow the road downhill.
---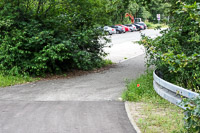 You'll pass a parking lot and a sign directing you to the waterfront, which is just around the bend.
(The grade is gentle, so you shouldn't have any problem rolling your suitcase.)
---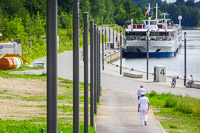 The road will lead you to the waterfront, where ships are at numbered berths.
(If your ship is at berth 1 to 4, you can take a shortcut via the pedestrian and bicycle path in the foreground of this photo.)
---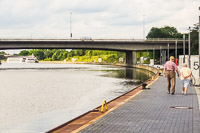 Berths 1 to 5 are on the same side of the bridge as the path that you arrived on.
If your ship is at berth 6 to 10, turn right when you reach the waterfront and walk toward the higher-numbered markers.
(In the photo above, you can see a ship moored at berth 10, beyond the bridge.)
---
If your ship isn't ready to receive you, not to worry:
You can have a snack and a beer at Uschis Treff, which is located just above the waterfront pedestrian and bike paths.
Next page: From your ship to Nuremberg Airport
---
---
---