Freiberg, Saxony
Page 2
Continued from page 1
More photos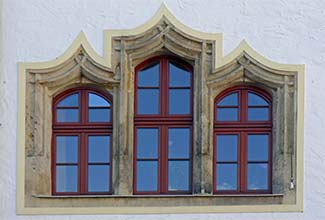 Several of Freiberg's medieval buildings have distinctive windows, such as these peaked windows with carved stone frames.
---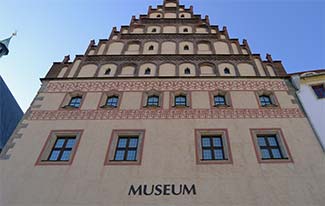 Freiberg's museums include the Stadt- und Bergbaumuseum, or City and Mining Museum, with exhibits such as objects from mining history, Gothic religious sculptures, folklore and crafts, a miners' devotional stall with a 17th Century harmonium, and a film presentation about mining history.
The museum is located on the Cathedral square, in a late Gothic building known as the Domherrenhof. It's open every day except Monday, and entrance fees are modest.
---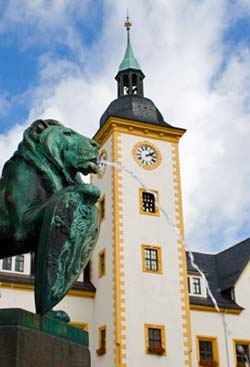 Photo: Tobias Richter.
The Rathaus Freiberg, or Town Hall, was built in 1640. It incorporates an earlier building from the 13th Century and is on the Obermarkt or Upper Market square.
Twice a day, at 11:15 a.m. and 4:15 p.m., the "Miner's Song" is played from the Rathaus tower.
---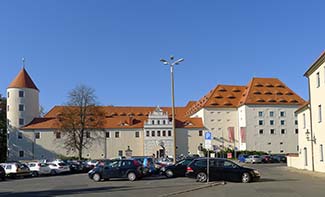 Schloss Freudenstein, a.k.a. Freudenstein Castle, is on the Schlossplatz at the edge of the medieval town center.
Cross the moat bridge and enter the castle courtyard, where you'll find a café and the modern, world-class Terra Mineralia mineral museum.
---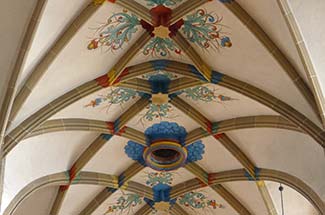 Freiberg St. Mary's Cathedral (in German, the Dom St. Marien) was built in 1501 on the site of an earlier Romanesque church that was destroyed by fire.
The late Gothic church has a light, airy interior with beautiful painted ceilings and two Silbermann organs. (The church became protestant and gave up its Roman Catholic cathedral status after the Reformation in 1537.)
---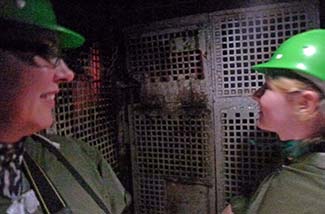 The Besucherbergwerk Freiberg (in English, the Bergwerk Freiberg Mine Tour) is a "don't miss" attraction for anyone who isn't claustrophobic or afraid of the dark. A level "Underground Path" tour is suitable for children and the disabled.
Back to: Freiberg, Saxony (Introduction)
---
---
---
---