Ore Mountains Model Railway Park
Modellbahnland Erzgebirge
Page 2
Continued from page 1
More photos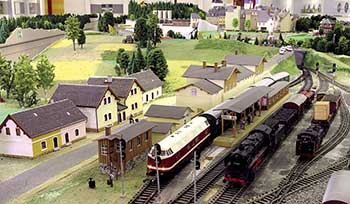 The model railway's layout has several dozen stations in two major sections: the Fichtelbergbahn and the Pressnitztalbahn.
---
Photo: Tourism Company of Saxony.
Tracks, tunnels, and bridges are modeled after real-life counterparts.
---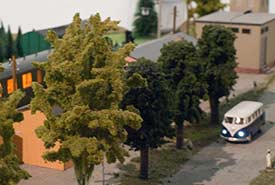 Nostalgia buffs will appreciate details like this vintage VW Microbus.
---
In addition to trains and railroad stations, the Modellbahnland Erzgebirge has dozens of scenes that recreate everyday life in the Ore Mountains (such as this bicycle race, or another scene--not shown--of a boy relieving himself behind a tree).
Next article: Wolkensteiner Zughotel
---
---
---