Saxon Railroad Museum
Chemnitz-Hilbersdorf
Sächsisches Eisenbahnmuseum
Page 2
Continued from page 1
More photos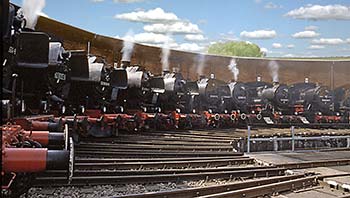 Photo: Tourism Marketing Company of Saxony.
The Saxon Railroad Museum has two roundhouses that were built from 1897-1900. One houses steam engines; the other is dedicated to diesel and electric locomotives.
---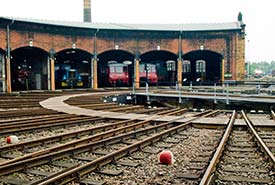 Each roundhouse has a 20-meter turntable that can accommodate massive steam engines with their tenders.
---
Warning signs are parked in front of a maintenance car.
---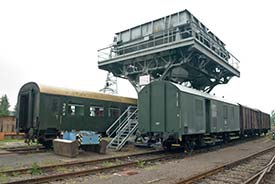 The restored Kohlenhochbunker, or high coal bunker, can fill two tenders simultaneously.
---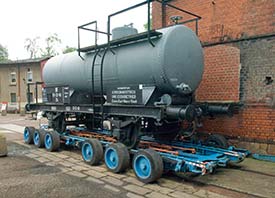 In the German Democratic Republic, multimodal transportation sometimes meant putting railcars on road trailers (as opposed to "piggybacking" truck trailers on railway flatcars).
---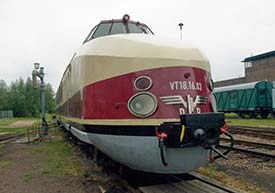 One of my own favorite exhibits is this high-speed diesel train from the 1970s, which has a museum café in the passenger cars.
Next article: Dresden Park Railway
---
---
---