Saxon Narrow-Gauge Museum
Rittersgrün
Sächsisches Schmalspurbahn-Museum
Page 2
Continued from page 1
More photos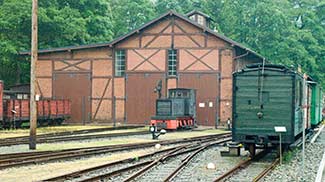 Narrow-gauge trains are restored and maintained in the Lokschuppen, a traditional Saxon-style locomotive shed that was built in 1920 and expanded (with the addition on the left) in 1928-1929.
---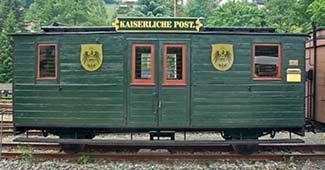 The Kaiserliche Post or Royal Mail car (carriage No. 1700) was built in 1892 and used by the German postal service until 1931. It was donated to the museum in 1982. In 1997, the car traveled with a commemorative postal train that celebrated 100 years of narrow-gauge railroading between Cranzahl and Kurort Oberwiesenthal.
Visitors to the museum can drop postcards or letters into a mail slot on the Kaiserliche Post car; thanks to a special arrangement with the Rittersgrün post office, the mail will be cancelled with an imprint that reads, "In Bahnpostwagen Nr. 1700 aufgegeben."
---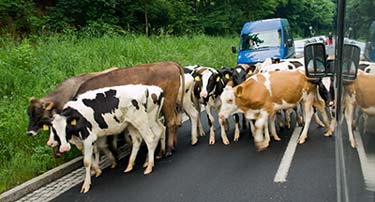 If you drive to or from Rittersgrün, watch out for stray cows: This herd of young cattle was blocking a country road near the village.
Next article: Ore Mountains Model Railway Park
---
---
---