Wittenberg Photos
From: Wittenberg, Germany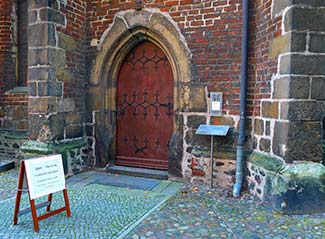 ABOVE: The Fronleichnamskapelle during a weekday devotional service in English. (The sign invites passersby to "Help us sing A Mighty Fortress.")
English-language church services
The Wittenberg English Ministry has been bringing American, British, Australian, and other English-speaking Lutheran pastors to Wittenberg for two-week tours of duty since 1997.
The ministry offers English-language services in either the Schlosskirche or Stadtkirche on Saturdays from 5 to 6 p.m. and half-hour devotional services in the Fronleichnamskapelle or Corpus Christi Chapel at 4:30 p.m. on Wednesdays, Thursdays, and Fridays. (The program runs from May through October.)
During my visit, the pastor in residence was a native of Hopkins, Minnesota who now preaches in Arizona. He told me that he'd applied for a visiting pastor's slot five years ago, so the program is obviously a big draw for Lutheran clergy along with the several thousand worshippers from six continents who attend services each year.
---