Europe > Germany > Hamburg > Vacation rentals
Hamburg Vacation Rentals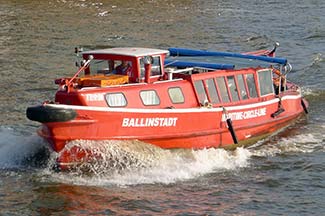 ABOVE: From your apartment, room, or other private accommodation in Hamburg, you can explore the city and suburbs on foot or by public transportation (including water buses on the Elbe).
We've come a long way since "holiday rental" meant a cottage by the sea, a villa in Spain, or a gîte in rural France.
Today, you can rent private accommodation almost anywhere--and in cities like Hamburg, short-term rentals through platforms like Airbnb and Booking.com offer a practical alternative to hotels.
Vacation rentals are especially useful if you're traveling with a family, you're staying more than a few days, or you simply want the experience of living like a local (with your own temporary home away from home and regular visits to neighborhood shops).
In Hamburg, we can recommend two companies that have a wide range of properties at nearly every price point. Both firms are our affiliate partners, which means that we receive a small commission on their rental or service fees:
Booking.com: Hamburg our partner
Europe's no. 1 secure reservations service listed more than 200 properties in Hamburg the last time we checked. Many are serviced apartments and apartment hotels, which offer a nice compromise between a rental flat and traditional hotel accommodation.

Airbnb: Hamburg our partner
The world's largest vacation-rental platform has hundreds of listings for Hamburg and its suburbs, with an emphasis on private apartments, studios, rooms, and the occasional guest cottage.
Tip: When comparing prices, be sure to compare the total cost, including any service or cleaning fees.