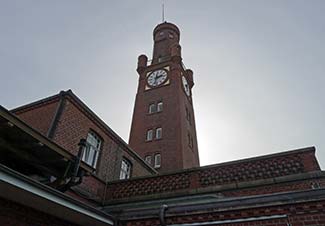 The Historic Hapag Terminal, also known as "Steubenhöft," was built at the turn of the 20th Century to handle guests of the Hamburg-America Line (HAPAG) after the company moved its passenger operations from Hamburg to Cuxhaven. The building above is the original Kuppelsaal or "domed hall" at the historic terminal's entrance.
---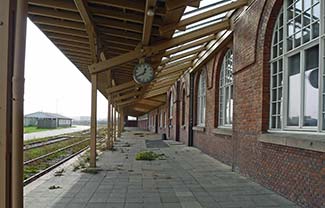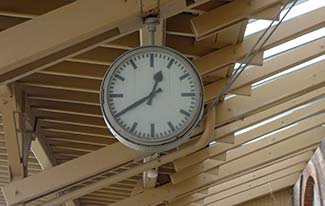 In the terminal's heyday, boat trains brought passengers directly to the "Amerikabahnhof" from Hamburg and Berlin.
---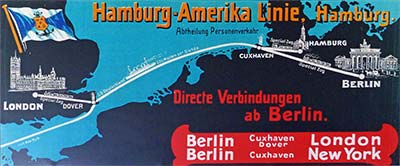 This vintage billboard in the terminal shows the Hamburg-America Line's main routes--Berlin to London via Cuxhaven and Dover, and Berlin to New York via Cuxhaven. Customers could book passage from city to city, with HAPAG providing connecting trains where needed.
---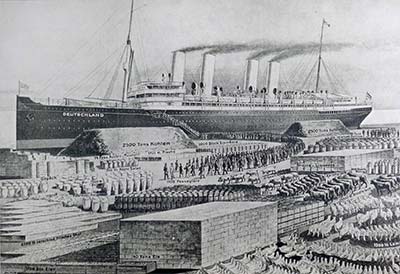 A black-and-white illustration of HAPAG's Deutschland is accompanied by representations of the coal and provisions that were required for a transatlantic voyage. (Click here for a larger 140Kb image with legible captions.)
In 1900, when the Deutschland entered service between Cuxhaven and New York, it was the largest and fastest ship in the world.
---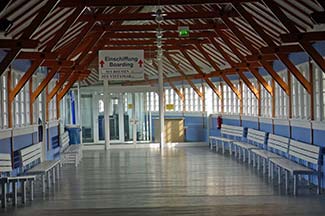 HAPAG's transatlantic service between New York and Cuxhaven ended in the late 1960s, but DFDS Seaways operated overnight car-passenger ferries between Harwich, England and Cuxhaven from March, 2002 to November, 2003.
---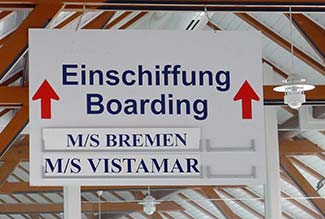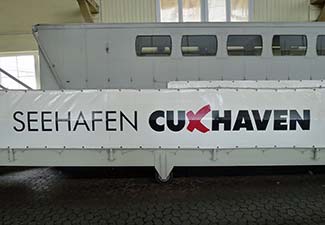 Today, the Steubenhöft pier is still used by visiting cruise ships. Cuxhaven is also a port for passenger ferries to the islands of Heligoland and Neuwerk, and for high-speed catamaran ferries to Stade, Hamburg, and Heligoland.
---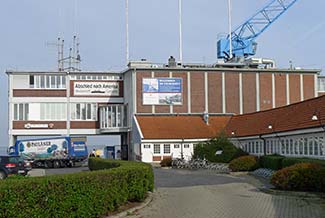 This photo shows the land side of the modern Empfangsgebäude (reception building) where ships discharge and load passengers. The new building dates to the 1950s.
You can see a portion of the historic terminal complex in the foreground.
---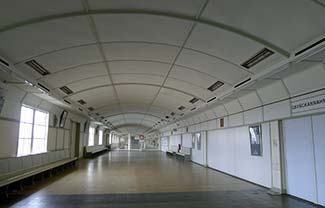 The Zollhalle, or Customs Hall, is connected to the wharf by the Gedeckter Gang (covered passageway) that was built in 1913.
---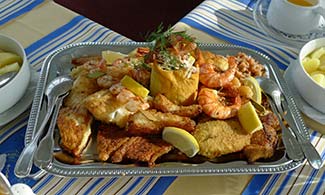 The reception building houses a free museum exhibit and an outstanding restaurant, the Seestern Steubenhöft, which specializes in delectable fried fish served in a high-ceilinged room with a spectaculr view of the sea.
---
Cuxhaven Photos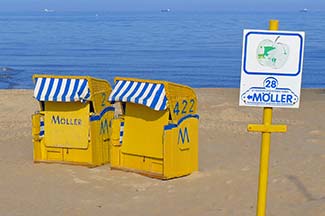 Enclosed beach chairs--which provide shelter from sun, rain, and wind--are a symbol of Cuxhaven and other Northern German seaside resorts.
---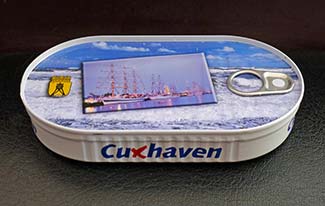 Don't miss the local herring. (This tin bears the city's official logo and a tourist scene.)
---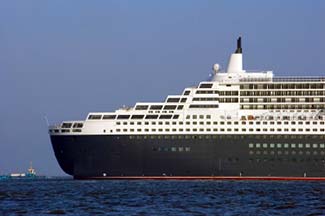 If you're lucky, you may see a large cruise ship or the only remaining transatlantic liner, Cunard's Queen Mary 2, during your visit to Cuxhaven.