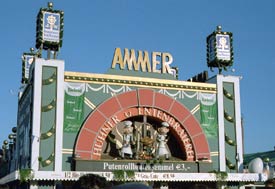 ABOVE: Chickens and ducks are the specialty of Ammer (see link below), which claims to have invented the electrically powered roasting spit in 1885.
Oktoberfest.de
The official Oktoberfest Web site is loaded with useful information, but only in the last few months before the festival.
Oktoberfest
Sara Doersham wrote this article for Sally's Place.
Munich Beer and Oktoberfestmuseum europeforvisitors.com
Learn about the history of beer, Munich's breweries, and the world's largest beer bust. (Don't miss the Museumsstüberl; you can buy a voucher for a beer and a snack with your admission ticket.)
The Ultimate Guide to Oktoberfest
Marion Kummerow's 72-page book describes the various beer tents, tells how to make reservations (or how to get in without a reservation), and more. It's available in Amazon Kindle e-book format or as a paperback.
Hühner- & Entenbraterie Ammer
"The oldest roastery in the world" serves up Oktoberfest tips (along with chicken, duck, and beer).
Tip:

If you'd rather spend your money on beer than on a hotel during Oktoberfest, sleep at Wies'n-Camp in the Olympic Horse Stadium or The Tent (Kapuzinerh÷zl) near the Botanical Garden.
Munich tourist information
Munich europeforvisitors.com
These 20 pages of photos and annotated links for the Bavarian capital include 8 pages of information about Munich hotels, hostels, and other places to stay.
Munich International Airport europeforvisitors.com
Europe's 8th largest airport is in the heart of the most popular German tourist region. It's also a gateway to Austria's leading ski areas.