Cube Houses Rotterdam
Page 2
Continued from page 1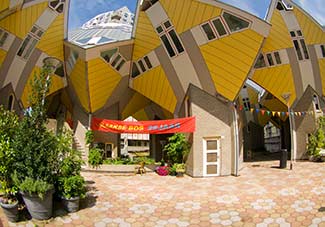 Kijk-Kubus / Show Cube
Opening hours:

The Kijk-Kubus or Show Cube is open daily from 11 a.m.to 5 p.m. Follow the signs to the entrance, which is simply a doorway beneath one of the cubes. (Be prepared to climb a steep flight of Dutch-style steps; at the top of the stairs, you'll enter the cube dwelling's living room, where you can buy a ticket for a few euros.)
How to reach the Cube Houses:

The Kubuswoningen are just south of the Rotterdam Blaak railroad and Metro station, at the top of the Oude Haven (Old Harbor). They're only a short walk from most other locations in the city center, but if you're in a hurry, you can reach the Blaak Station by NS commuter train or Metro, on the No. 21 tram, or on bus 32 or 49.
Tip: Allow time for a visit to the Oude Haven (where you'll find a number of waterside bars and restaurants) and the Rotterdam Central Library, which has English-language reading materials and free Internet terminals upstairs.
For more information:
Visit the official Cube Houses Web site at www.kubuswoning.nl and click the Union Jack icon for English text.

For more captioned photos of the Kubuswoningen, continue to page 3 of this article.
Next page: More photos
---
---
---