Cube Houses Rotterdam
Page 3
Continued from page 2
More photos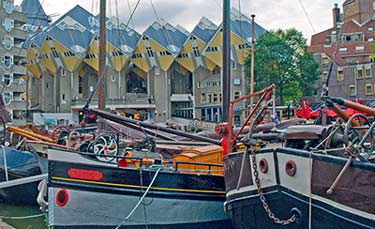 The Cube Houses are just above Rotterdam's Oude Haven (Old Harbor).
---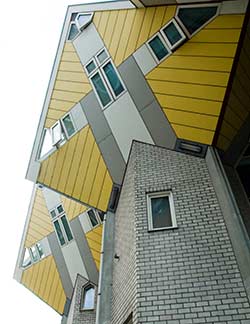 This view up the façade of the Kubuswoningen, or Cube Houses, shows the basic structural layout: Each cube rests on its corner atop a base of brick and concrete. An entrance staircase leads from the dwelling's doorway to the living space inside the cube.
---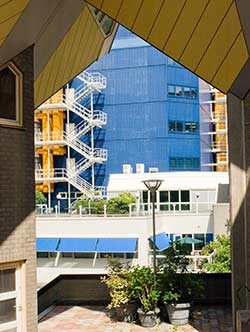 From the courtyard inside the Kubuswoningen complex, you can see the Rotterdam Central Library next door.
Rotterdam's central Bibliotheek was the largest public library in the Netherlands at the time of its construction in the 1980s. Its facilities include a cabaret theatre and a café-restaurant.
---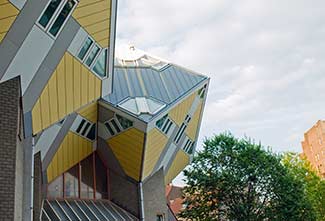 The most desirable Cube Houses are the ones facing the Old Harbor. Note how the windows look downward--a great idea for "Neighborhood Watch" programs.
---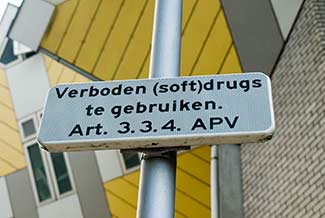 A sign warns residents and visitors against using soft drugs. (It isn't clear whether hard drugs are forbidden.)
---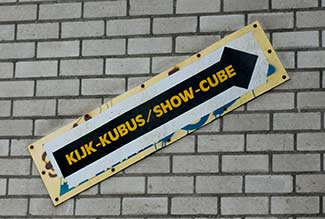 After you've stashed your hash, head upstairs to the Kijk-Kubus or Show-Cube. (You might as well be clear-headed when entering the cube dwelling, since the layout is a trip in itself.)
---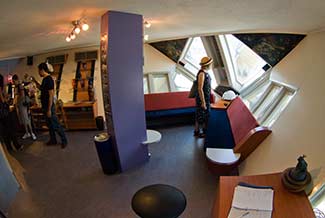 The Show-Cube's main level, or living room, doubles as a ticket office and bookshop.
(Note: Our fisheye lens introduced some distortion, but the walls really do tilt outward.)
---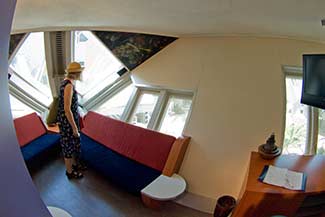 The Show-Cube's furniture was custom-designed by the museum director.
---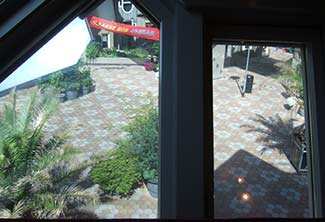 The courtyard of the Kubuswoningen complex is visible through the living-room windows.
---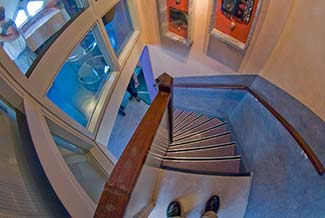 Steep stairs, similar to those in an old Dutch canal house, lead to the upper levels of the cube dwelling.
---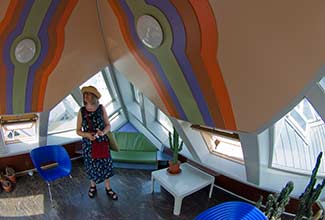 1970s-style supergraphics are at the occupant's discretion.
---
A view across the roofs of neighboring Cube Houses shows the upper floors of the Rotterdam Central Library and several apartment buildings.
---
Interior views are even more impressive, especially as you climb higher in the Show-Cube.
---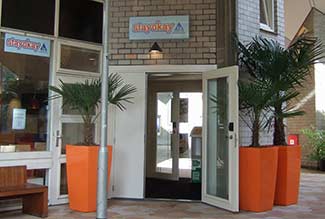 If your visit to the Kijk-Kubus or Show-Cube has left you dizzy, you can ask for a bed at the Stayokay Hostel Rotterdam within the Cube Houses project. The hostel's accommodations range from shared 6- to 9-bed rooms (mixed or single-sex) to private 2-, 4-, or 6-bed rooms. Rates include breakfast, sheets, and Wi-Fi Internet access.
Back to: Cube Houses - Introduction