The Pancake Boat, Rotterdam
Page 2
Continued from page 1
More photos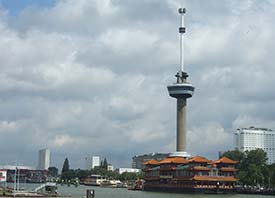 De Pannenkoekenboot's pier is behind the red-roofed floating Chinese restaurant above, directly across from the Euromast. (The harbor is called Parkhaven, and you can reach it on foot or via ttram from central Rotterdam.)
---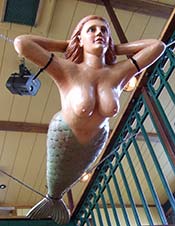 The interior of De Pannenkoekenboot includes a sculpture of a mermaid whose motto could be "Pancakes or bust."
---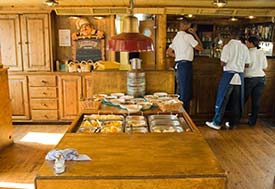 The pancake kitchen is on the main or lower deck. When your table number is called, you go to the kitchen to collect your first pancake.
---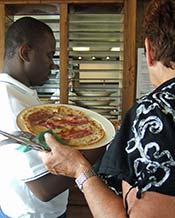 A server will hand you a plate with the type of pancake you want: plain, or with apple slices or bacon baked in (as in the photo above).
---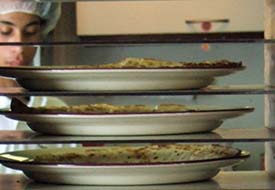 Cooks constantly load new plates of pancakes onto a rack between the kitchen and the dining area. (The plates can be hot, so you may want to use a napkin as a potholder.)
---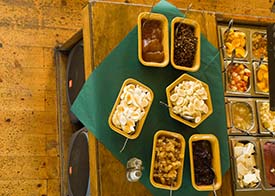 A wooden table has pans of sweet and savory toppings--everything from ham, cheese, and sliced eggs to fruit, marshmallows, and candy sprinkles. (We suggest starting off with a dinner pancake and returning for dessert.)
---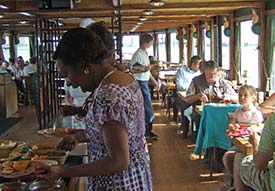 After you've shoveled toppings onto your pancake, you can head back to your table for dinner.
---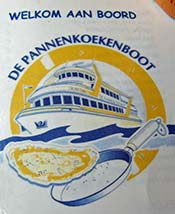 A menu at your table lists alcoholic and non-alcoholic drinks, which are charged separately and delivered by a server. Another optional add-on is the sundae bar, which opens for business after passengers have had their fill of pancakes.
---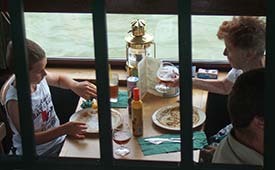 This photo shows a family dining on the lower or main deck. (We took it from the upper deck, which has more tables, toilets, and an open sightseeing deck at the stern.)
---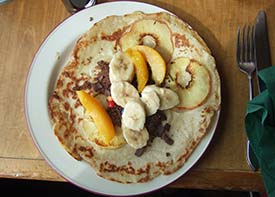 This dessert pancake has slices of apple, banana, and peach, with brown sugar and chocolate shavings for an added nutritional boost.
---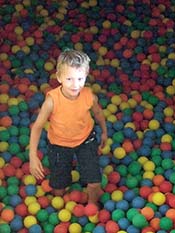 After the meal, smaller children head for a hatch on the lower deck that, when opened, reveals a hold filled with plastic balls.
---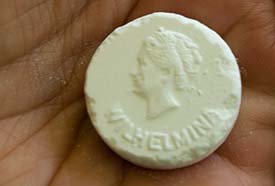 At the end of the voyage, you'll be offered a Wilhelmina peppermint as you leave the boat. The traditional Dutch mints bear a portrait of the late Queen Wilhelmina of the Netherlands, whose reign lasted 58 years (from 1890 to 1948).
Back to: De Pannekoekenboot - The Pancake Boat
---
---
---