Kinderdijk Cruise Photos
From: Rotterdam-Kinderdijk Cruise
2. A visit to Kinderdijk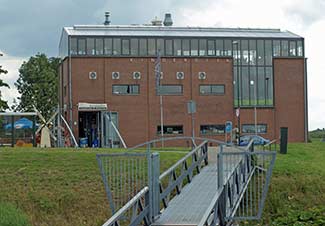 About an hour after leaving Rotterdam, Nehalennia ties up at a pier next to the Kinderdijk pumping station. Passengers have between 90 minutes and two hours to explore the windmill area, which is just beyond the footbridge and the grass-covered dike.
---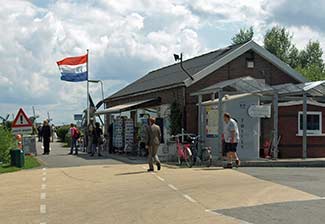 Just past the pumping station is a building with toilets, food, and a souvenir shop. Cars aren't allowed beyond this point, but bicycles are, so observe the lane lines on the path.
Note: Admission is free at Kinderdijk, although you'll pay small fees if you ride the canal boat and go into the working windmill.
---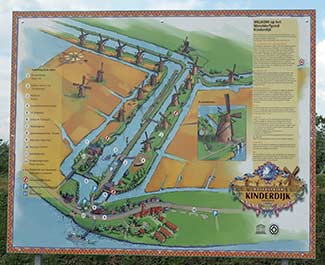 A map of Kinderdijk shows the layout of the canal and its 19 windmills. (Nehalennia's pier is at the bottom of the map, on the Nieuwe Maas river.)
---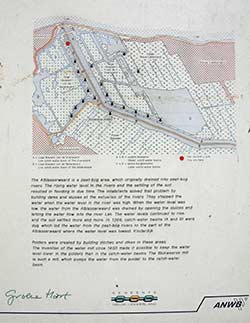 Signs explain the history and working of the Kinderdijk windmills and drainage system. (Most signs have both Dutch and English text.)
---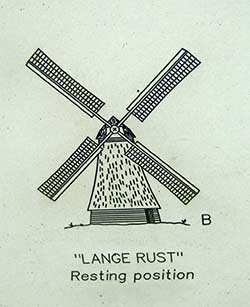 In the days before modern communications, windmill operators who served the public (such as millers who turned grain into flour) would position their windmills' blades to indicate whether the mills were working or offline.
---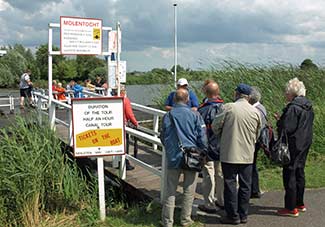 As you continue down the path, you'll see a wide canal to your left. This is the drainage canal for the surrounding polders, which are below sea level. Excess water from the canal is pumped into the Nieuwe Maas River near the entrance to the park.
If you're unable or unwilling to walk the short distance to the windmills, a small sightseeing boat will take you up the canal and back for a few euros.
---

Kinderdijk has 19 windmills along its L-shaped canal. During July and August, at least one windmill is working every Saturday. (If you don't mind seeing the windmills at rest, you can visit any day of the week year-round.)
---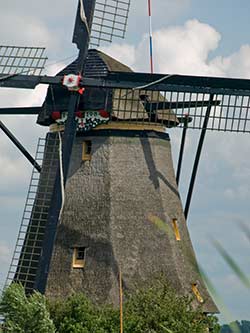 This photo shows the design of a typical windmill at Kinderdijk. The main structure (which contains the mill-keeper's living quarters) is made of brick, with the windmill mechanism rotating on top of the structure to face the wind. The blades have retractable sails.
---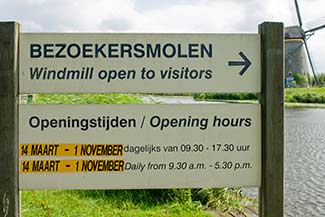 If you're curious to see what a windmill looks like inside, you can visit a working windmill from mid-March until November 1. The windmill is open daily, and the mill-keeper will show you around.
---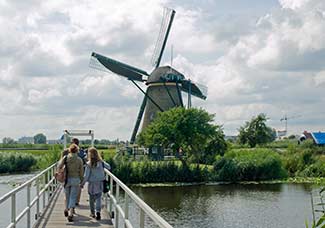 A footbridge leads to the working windmill, where you'll pay a small fee for admission.
---

If you're pressed for time, skip the working windmill and continue along the footpath, enjoying the view of windmills on both sides of the canal.
---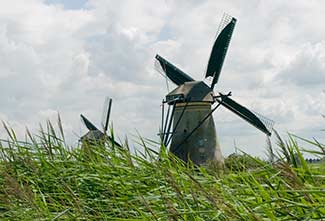 Different views of windmills are at every turn. Here, two windmills are framed by tall grass.
---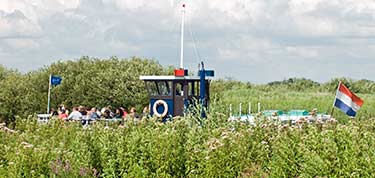 During our visit to Kinderdijk, the canal sightseeing boat passed us as we walked back toward the river and Nehalennia.
Next page: Return to Rotterdam
---
---
---