Kinderdijk Cruise Photos
From: Rotterdam-Kinderdijk Cruise
3. Return to Rotterdam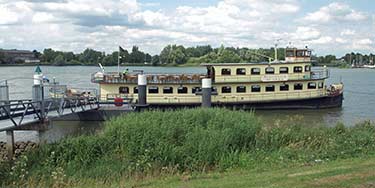 Nehalennia was waiting for us at Kinderdijk's riverside pier. (If we'd missed the boat, we could have returned to Rotterdam by regional fast ferry or bus and train; see page 2 for details.)
---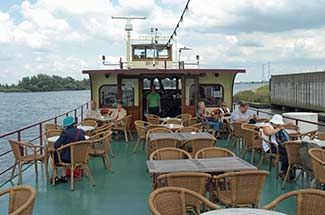 On the way back to Rotterdam from Kinderdijk, we again chose a table on Nehalennia's top deck. (Many of our fellow passengers had gone inside to avoid the windy, damp weather.)
---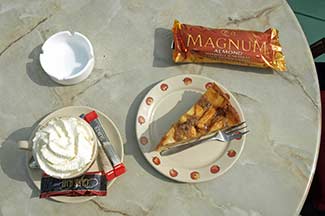 We had a snack on the return trip, served at our table at a surprisingly reasonable cost.
---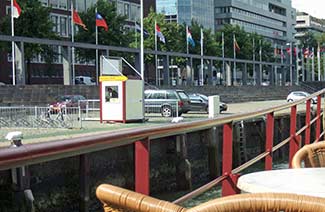 After a leisurely hour on the river, we arrived back at De Boompjeskade in central Rotterdam.
---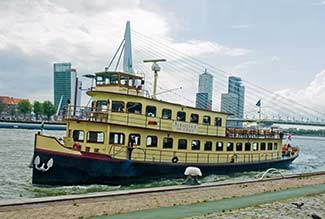 In this final picture of Nehalennia in central Rotterdam, you can see the ship's layout: The main saloon is on the lower deck, with the upper deck consisting of two parts: an enclosed lounge with snack bar, and an open rear deck with tables.
Seating is on a first-come, first-served basis, so arrive early and be at the head of the boarding line on sunny days or weekends.
Back to: Rotterdam - Kinderdijk Cruise (Introduction)
---
---
---