Kinderdijk Cruise Photos
From: Rotterdam-Kinderdijk Cruise
1. Departure from Rotterdam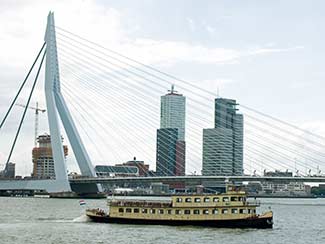 Nehalennia arrives and departs from De Boompjskade, a quay about 250 meters (.16 mile) east of the Erasmusbrug or Erasmus Bridge.
---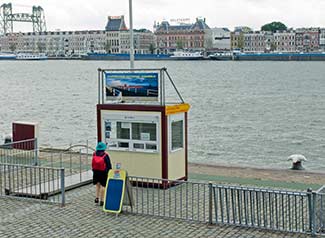 You can reserve ahead and buy tickets at Nehallenia's booth on De Boompeskade.
The ticket agent also helps to tie up the boat and position the gangway, which you can see lying on the pier to the left of the booth.
---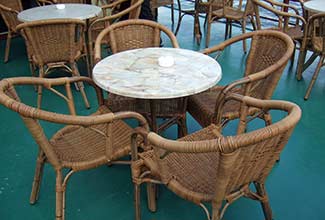 After you've boarded the boat, head to the upper deck in good weather and grab a table near the railing. (In our opinion, the best views are on the port side on the way to Kinderdijk; on the return trip, you'll see the same views from the starboard side.)
If it's cold or rainy, you can retreat to the sheltered portion of the upper deck or to the larger saloon on Nehalennia's lower or main deck.
---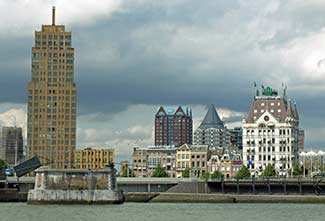 As Nehalennia cruises up the Nieuwe Maas River from central Rotterdam, it passes Het Witte Huis, Europe's oldest skyscraper (on the right side of the photo above).
"The White House" is a ten-story office building that stands on 900 pilings. It was finished in 1898 and is one of the few buildings in central Rotterdam to survive the German bombings of May, 1940.
---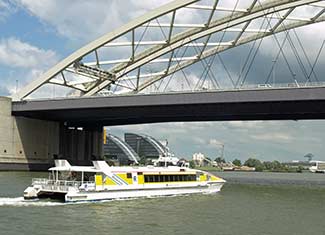 During the outbound leg of our cruise to Kinderdijk, a No.1 Waterbus passed the Nehalennia just as we reached the Van Brienenoordbrug, a bridge near the city's outskirts. The bridge carries traffic for the A16 motorway, which is the eastern segment of the ring road around Rotterdam.
---

Four playful examples of Rotterdam's modern architecture are on the north shore of the river as Nehalennia cruises beyond the Van Brienenoord Bridge.
---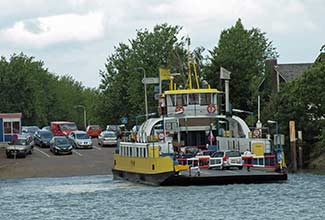 As Nehalennia continues upriver, bridges are replaced by car ferries that connect villages on both sides of the Nieuwe Maas.
Next page: Kinderdijk photos