Kinderdijk Cruise
Page 2
Continued from page 1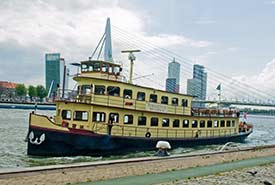 ABOVE: Nehalennia arrives in Rotterdam after an excursion to Kinderdijk. INSET BELOW: Coffee with appelgebak from the boat's snack bar, and a No. 1 Waterbus on its way to Rotterdam.
Practical information
Cruise times:
From the end of March until late October, Nehalennia cruises daily except Monday, with departures at 12 p.m. The boat returns to the pier in Rotterdam four hours later.
Departure point:
Nehalennia cruises to Kinderdijk leave from De Boompjeskade, the quay below the flag-lined promenade along central Rotterdam's waterfront.
Keep an eye out for the ticket booth, which is next to the water about 250 meters or 275 yards east of the Erasmus Bridge.
Tickets and reservations:
When this article was last updated in November, 2018, tickets for the standard four-hour excursion cost €17,50 for adults and €12,50 for children from ages 4 to age 11. (Children under 4 travel free.)
It's a good idea to book ahead, especially on weekends or during high season. Phone +31-6-55826463 (international) 06-55826463 (in the Netherlands), visit the ticket booth on Bompjeskade or the Rotterdam Tourist Office, or e-mail [email protected].
For more information, including phone numbers, see the boat's multilingual Web site.
Food and drink:

Nehalennia has a snack bar with reasonable prices. A waitress makes the rounds of the tables once or twice during the cruise, and small items (such as drinks and ice-cream bars) are available at the counter inside the boat.
You can also buy food at Kinderdijk if you get hungry while ashore.
Returning by bus and train:
If you miss the boat's return trip, or if you decide to stay on for a few hours at Kinderdijk, you can get back to Rotterdam on public bus No. 90. (You'll see a bus stop near Kinderdijk's entrance; take the bus that's headed west toward Rotterdam.)
After a 34-minute ride, you'll reach the Rotterdam Lombardijen railroad station on the south side of the river, where trains run frequently to the Rotterdam city center and beyond.
For more information, use 9292.nl's Door-to-Door Journey Planner, selecting "Attraction: Kinderdijk" as your departure point and any Rotterdam train station as your destination.
Returning by Waterbus:

A more scenic option is the Waterbus regional fast ferry. Routes and timetables vary by season. Try this link for the simplest connection. (You'll be departing from Kinderdijk Molendade and arriving at Rotterdam Erasmusbrug.)
Web sites:
Official Web site: Check up-to-date cruise information at rebus-info.nl.

Learn more about the Kinderdijk windmills at the multilingual official Web site, www.kinderdijk.com. For more background reading, see Wikipedia's articles on Kinderdijk and Dutch polders, and--above all--click here and scroll several screens down to Serge van Duijnhoven's "Irrigating Time with the Kinderdijk Windmills" (PDF).
Finally, be sure to view our photo gallery (starting on the next page) for captioned pictures that show Nehalennia's ticket booth and mooring point in Rotterdam, the cruise along the Nieuwe Maas river, and the windmills at Kinderdijk.
Next page: Photo gallery
---
---
---