Europe > Netherlands > Rotterdam > Vacation rentals
Rotterdam Vacation Rentals
Live like a local in South Holland's largest city.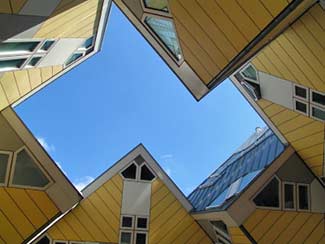 ABOVE: Rotterdam has a wide choice of vacation rentals, including a "Cube House" room in the city center.
We're fans of vacation rentals for several reasons:
Value. A rental apartment, room, or cottage usually has more space than a hotel room, and the price is often lower for the same level of comfort and luxury. If you don't need the services that a hotel provides, a vacation rental can be a practical and economical alternative.

Savings on meals. If you're staying in an apartment with a kitchen (or even a private room with kitchen privileges), you can eat at least some of your meals at home. The savings can add up quickly, especially if you're traveling with a family.

The illusion of being a local. Sure, we're all tourists when we travel, but it's nice to at least feel at home in the cities that we're visiting. When you stay in an apartment or other private rental, you'll be part of the neighborhood (especially when you take advantage of its supermarkets, bakeries, and other shops).
In Rotterdam, we recommend:
Booking.com: Rotterdam vacation rentals our partner
Europe's no. 1 secure reservations service is best known for hotels, but it also has a large portfolio of rental properties in Rotterdam and nearby towns--including apartment hotels and serviced apartments. (Booking.com is our affiliate partner, and we receive a small commission on rental fees.)