Choco-Story: Paris Chocolate Museum
Page 2
Continued from page 1
Museum Photos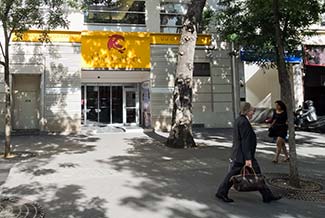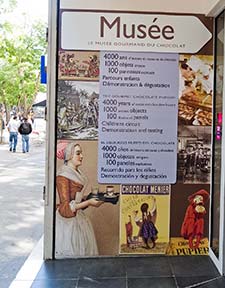 Choco-Story is at 28 Boulevard Bonne Nouvelle in the 10th Arrondissement, just a few meters from the Bonne Nouvelle station on Métro lines 8 and 9.
---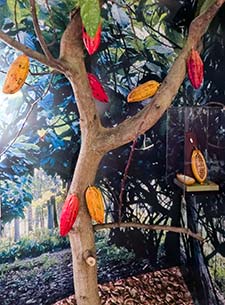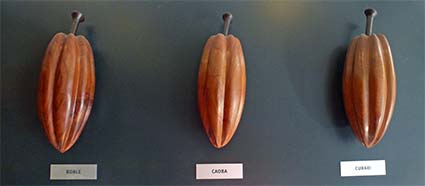 Our visit to the museum began with an introduction to the cacao tree and cocoa beans.
---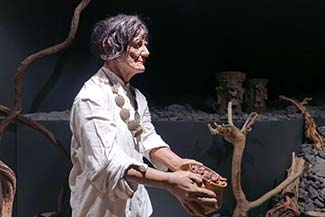 Dioramas and other displays introduced us to the history of chocolate, which goes back at least 4,000 years. In this diorama, a Mayan priest was offering cocoa beans to the gods.
---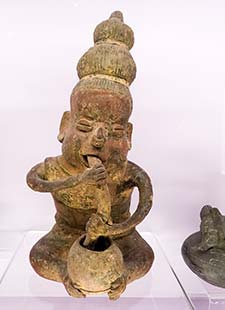 The gods apparently devoured cocoa beans whole. Mayan and Aztec people, on the other hand, crushed the beans into a paste that was mixed with water, chili peppers, and spices to create a bitter drink.
---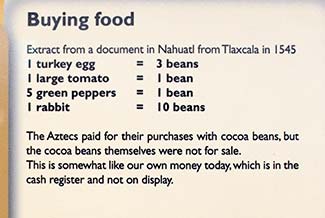 Labels at Choco-Story are in French and English. (The label above shows how the Aztecs used cocoa beans as currency.)
---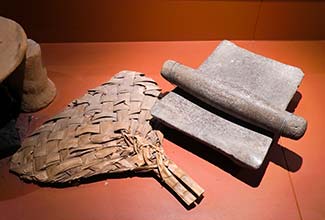 This display shows a stone metate and mano, which were used to crush cocoa beans in ancient Mexico.
The metate is still employed by traditional Mexican cooks for grinding corn and other grains.
---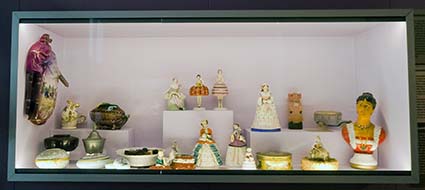 After learning about the early history of chocolate, we went upstairs to see exhibits about the cocoa bean's introduction and cultural role in Europe from the 16th Century onward.
The display case above shows vintage bonbonnières for storing and displaying chocolate.
---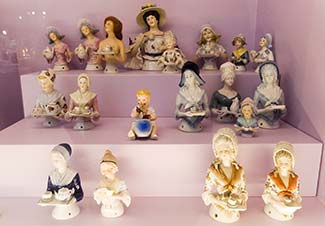 Half-dolls (produced mostly in the early 20th Century) were used as tea cozies, tops of powder boxes, etc. These half-dolls were cozies for cups or small pitchers of hot chocolate.
---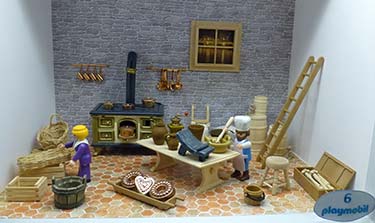 In more modern times, Playmobil has paid homage to chocolate.
---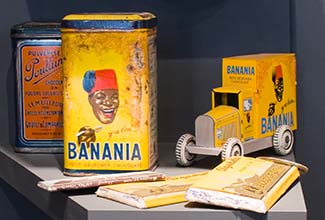 Another section of Choco-Story's European exhibit shows chocolate packaging and brands, such as Banania (a popular French breakfasrt chocolate).
---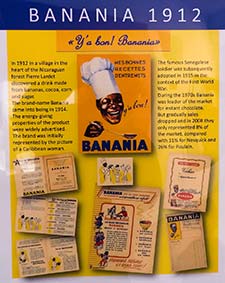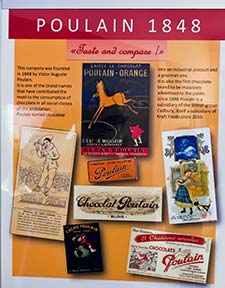 We enjoyed leafing through a display of information about chocolate brands (some familiar, some less so), including Banania and France's celebrated Poulain line of dessert and baking chocolates.
---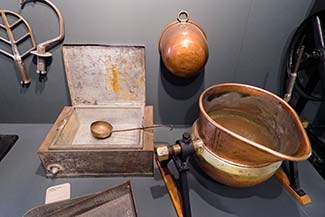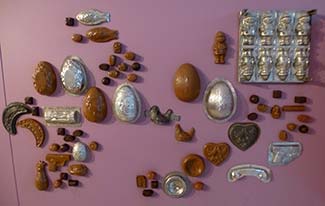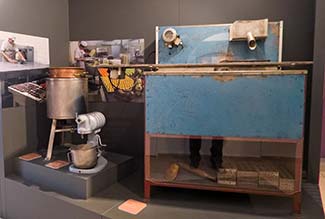 We also admired the displays of antique implements, traditional metal molds, and machinery used by confectioners and the chocolate industry.
---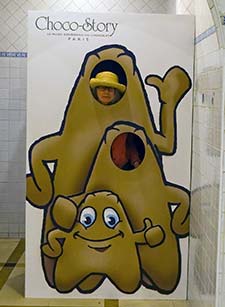 After spending an hour and a half or so wandering through the museum, we went down to the basement, where Cheryl posed with Choclala (Choco-Story's mascot) while waiting for the chocolate demonstration to begin in the kitchen next door.
Choco-Story presents demonstrations with tastings every 20 minutes, all day long.
Next page: Chocolate demonstration
---
---