Ballon de Paris Photos
From: Ballon de Paris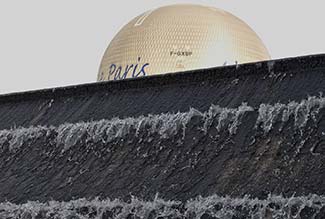 The Ballon de Paris tethered balloon peeks over a waterfall in the Parc Andrť CitroŽn.
---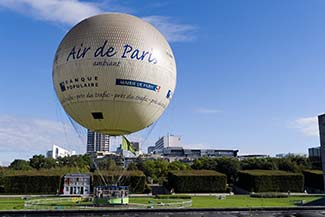 Between 10-minute rides, the balloon's gondola or basket rests on a paved circle in the middle of the park.
---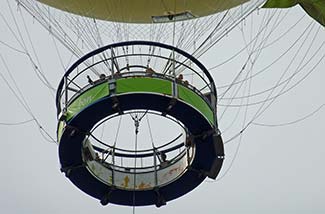 The ring-shaped gondola has a maximum capacity of 30 adults or 60 children on a windless day. During our most recent visit on a weekday, fewer than a dozen people were on board.
---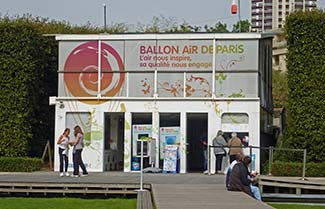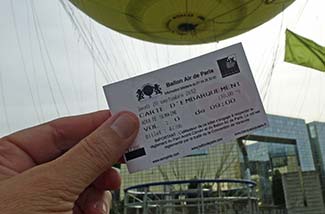 The ticket office is a few steps from the launch area, facing the balloon. Go inside to buy tickets, view the exhibits, and browse the small gift shop. (Looking for a bargain? For a euro or two, you can purchase a small bilingual book, Aerophile: The history and technology of the large tethered balloons, which is packed with color illustrations and technical data. The booklet was out of stock during our most recent visit, but maybe you'll get lucky.)
---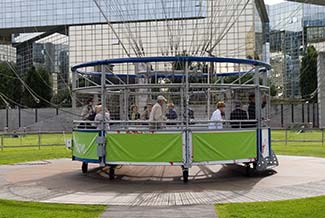 After you've bought your ticket, you'll go to a waiting area near the balloon. When it's time to board, you'll step into the gondola, which is enclosed by nets to keep passengers from falling or jumping.
---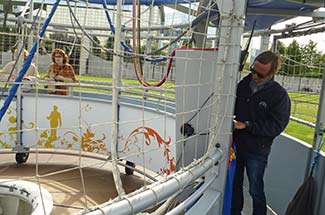 The balloon has a pilot. In this photo, he's getting ready to launch the balloon by using an electronic control panel.
---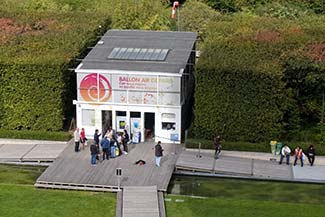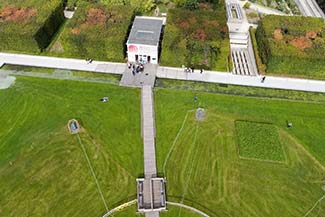 The ascent is gentle and almost silent. It's also surprisingly quick: You'll see the ticket office and launch pad recede as the balloon climbs to its maximum altitude of 150 meters or nearly 500 feet.
---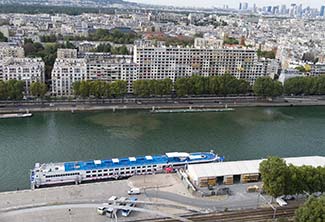 As the balloon continues climbing, you can enjoy a panoramic view of the Seine and the Port de Javel-bas, where river cruisers (such as the Viking Pride, shown above) depart for Normandy every week from through fall.
---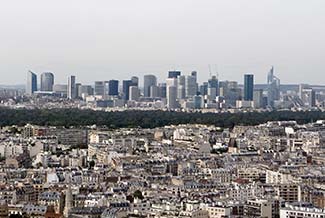 Here, you can see the rooftops of Paris and the skyscrapers of La Dťfense.
---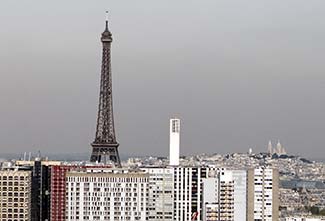 Take your eyes off the Eiffel Tower, and you'll see the Basilica of Sacrť-Coeur atop the Butte of Montmartre on a clear day.
---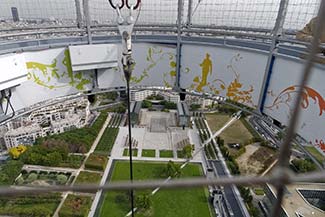 Take a moment to sample the view from the gondola's central opening, where you can look down on the Parc Andrť CitroŽn.
---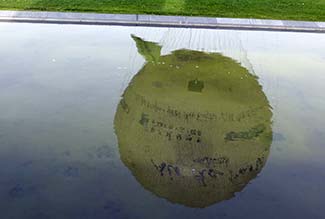 In this photo, the balloon is reflected in a park pond.
---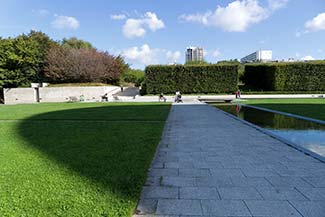 The Ballon de Paris casts a large shadow, as you can see in this picture from ground level.
---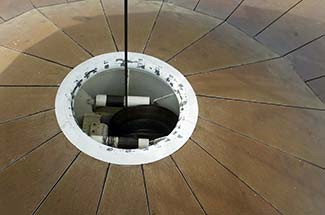 Toward the end of your 10-minute ride, a winch will haul the tethered balloon from 150 meters of altitude to ground level.
Back to: Ballon de Paris - Introduction
---
---