---
Notre Dame Cathedral Towers
Page 2
Continued from page 1
By Durant Imboden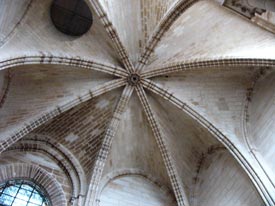 ABOVE: Ceiling inside the north tower. INSET BELOW: Gift shop.
Climbing the Towers

Your ascent begins at a doorway in the north tower, to the left and around the corner from Notre Dame's main entrance. After you've bought your ticket, you'll trudge up an enclosed stone staircase. (The staircase is narrow and the steps are fan-shaped, so skip the climb if you're claustrophobic or wearing high heels.)
About halfway up the 387 steps, you'll reach the gift and book shop, which occupies a high-ceilinged stone chamber inside the tower. Take a look at the plaque near the steps leading up to Esmeralda's Cell, which includes an excerpt from The Hunchback of Notre Dame.

Soon, a guard will open the door to the upper staircase, and you can resume your climb to the open gallery of the north tower, where a narrow walkway leads across to the south tower. (Don't worry about falling over the balustrade: A protective wire structure keeps tourists and wannabe jumpers from flattening the visitors below.)

You'll probably want to take snaphots of the chimera (ornamental statues of imaginary creatures) and gargoyles (statues that function as drainspouts) before visiting the belfry, where a wooden staircase offers a good view of the 13-ton Emmanuel bell in the south tower.
After leaving the belfry, you can squeeze your way up a two-way corkscrew staircase to the viewing platform on top of the south tower. You'll exit through the south tower, on the opposite side of the cathedral from the towers' visitor entrance.
Next page: Visitor information
---
---