---
Notre Dame Cathedral Towers
Page 4
Continued from page 3
More photos
Chimera Gallery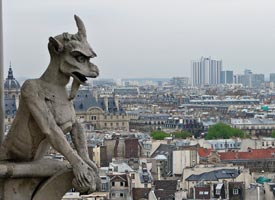 ABOVE: A goatlike chimera, or ornamental figure, overlooks the city. (The chimera were added during the cathedral's renovation in the 19th Century.)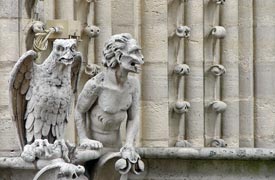 ABOVE: Two more figures--one resembling a bird, the other a man--are shown with the towers' stonework behind.
Views from Notre Dame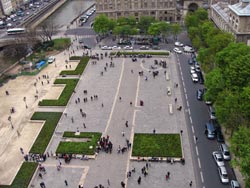 ABOVE: This photo of the square in front of the cathedral was taken from the chimera gallery, near the entrance to the belfry. Lines on the pavement show where the city's walls once stood.
At the far end of the plaza is the entrance to the Archaeological Crypt of Notre Dame, a museum with building foundations, streets, and other underground remnants of Paris from the Roman era through the 19th Century.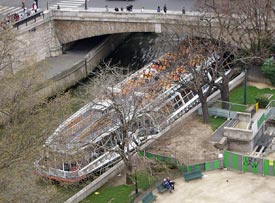 ABOVE: A sightseeing boat passes the Ile de la Cité.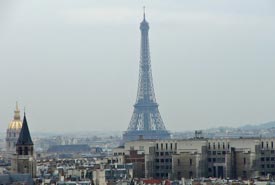 ABOVE: The Dome Church of the Invalides (gold-domed church on left) and the Eiffel Tower loom above the rooftops of Paris.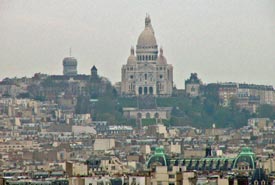 ABOVE: To the northwest, the basilica of Sacré Coeur faces Notre Dame from its hilltop site in Montmartre.
Back to: Notre Dame Cathedral Towers - Introduction
---
---