Paris Dog Cemetery Visitor Information
From: Paris Dog Cemetery
By Durant Imboden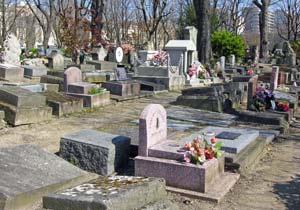 ABOVE: Graves in Le Cimetière des chiens d'Asnières-sur-Seine.
Visiting hours and fees
The Cimetière des Chiens is open daily (except Mondays) year-round.
The gates open at 10 a.m. Closing time is 6 p.m. (March 16 to October 15) or 4:30 p.m. (October 16 - March 15).
Entry costs 3,50 euros for adults and 1,50 euro for children from 6 to 12. Children under 6 are free.
Unless they're dead and buried, dogs must be on a short leash.
For more information, including a map of the cemetery, visit the pet cemetery page at Asnieres-sur-seine.fr.
How to get there
The cemetery is located next to the Pont de Clichy bridge in the suburb of Asnières-sur-Seine, just across the river from Clichy and Paris. Free parking is available.
From Paris, you can reach the Cimetière des Chiens by Paris Métro and an easy 15-minute stroll on a level sidewalk. See our printable directions with a map and pictures of landmarks along the way.
Next page: Paris Dog Cemetery photos
---
---