Orly Airport Taxis and Shuttles
From: Orly Airport Transportation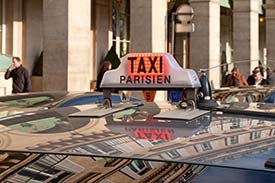 ABOVE: An occupied Paris taxi. (When a cab is free, the sign is illuminated in green.)
Taxis
The official flat rate from Orly to the city center is 35 euros. Tipping is optional but customary; a few euros should be adequate.
Driving time can be anywhere from 30 to 90 minutes, depending on traffic. See our Paris Taxis article for more advice on traveling by cab.
Airport shuttles
Paris Airport Shuttle will take you to or from your hotel in central Paris for 17 to 30 euros per person (depending on the number of travelers in your party) with a €3 surcharge for trips early in the morning or at night. Transportation is in shared seven-passenger vans. Book online at least 24 hours in advance, and you'll receive a voucher by e-mail or fax.
A competitor, Parishuttle, offers rates of €16 to €25 in eight-passenger vans.
Another option is to prebook Orly airport shuttles in your preferred currency with our tour partner, Viator Paris. (Viator's rates are sometimes--though not always--lower than the shuttle company's own prices.)
Photo copyright © Paris Tourist Office. Photographer: Jacques Lebar.