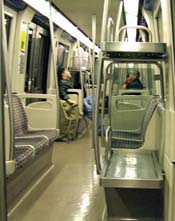 ABOVE: Orlyval trains have racks for your luggage. INSET BELOW: An Orlyval train waits at the south terminal.
Orlyval, RER, and Métro trains

RER B: Driverless Orlyval shuttle trains connect Orly Airport's Sud and Ouest terminals to the Antony station of the RER B line, where you can transfer to an RER train into the heart of Paris. Your combined ticket ticket will be valid on the Orlyval train, the RER, and the Métro.
Buy your ticket at the RATP's Orlyval/Orlybus booth in the terminal, then go up the escalator to the elevated train station. Keep the ticket with you throughout the journey. (You'll need it for the turnstiles at Antony and to exit the RER.)
If you're connecting from Orly to Charles de Gaulle Airport, buy an Orlyval/RER ticket to CDG-Roissy and board a B3 train at the Antony RER station. (Other B trains don't go to CDG.)
When traveling to Orly from Paris on the RER, board a train with the final destination of Saint-Rémy-lès-Chevreuse and transfer to the Orlyval train at the Antony station.
RER C: A "Paris par le train" bus connects Paris-Orly South (Entrance F) and Paris-Orly West (Entrance G Arrival Level) with the Pont de Rungis station of RER Line C. The bus ride takes 10 minutes, and RER Line C will get you into the city in 30 to 45 minutes or so, depending on your destination.
Notes:
Orlyval trains depart every 5 to 7 minutes from 6 a.m. until 11 p.m., and total travel time to central Paris is 35 to 40 minutes.

The 1- to 5-zone Paris Visite pass is valid on Orlyval and the RER. (The cheaper 1- to 3-zone Paris Visite pass does not cover airport transportation.) (The weekly or monthly Navigo pass is not valid on Orlyval.)

For your return trip, you can buy tickets all the way to Orly at any RER or Métro station.