Paris > Parks & Outdoor Spaces > Paris Plage > Photos
Paris Plage
Page 2
Continued from page 1
More photos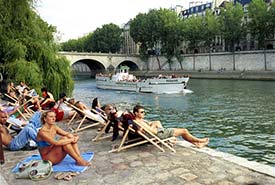 Parisians sunbathed along the Seine in 2002, the first year of Paris Plage.
---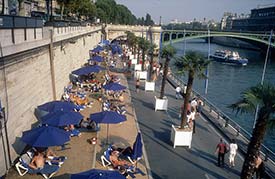 A roadway in the 4th arrondissement was turned over to beach umbrellas, palm planters, and sunbathers in the summer of 2003.
---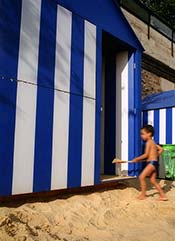 A boy shoveled sand next to a beach hut during the 2003 Paris Plage.
---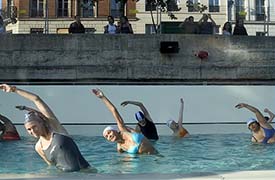 Synchronized water gymnastics entertained Paris Plage beachgoers in the summer of 2004.
---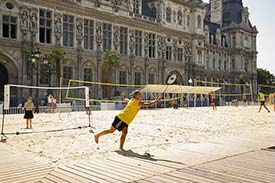 Beach volleyball came to the Hôtel de Ville (a.k.a. the City Hall of Paris) in 2006.
---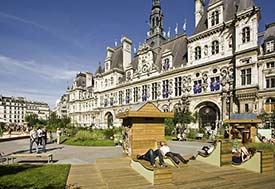 The Hôtel de Ville offers Parisians a chance to bombard their skin with ultraviolet rays.
---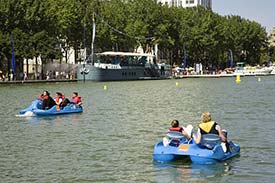 At the Bassin de la Villette, on the city's northern edge, pedalboats are a feature of the Paris Plage.
---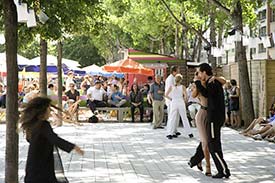 A Paris Plage ballroom-dancing event in the Parc de Villette offers a break from beach activities.
---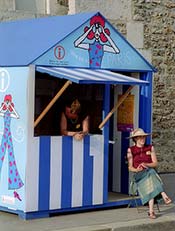 If you have any questions about Paris Plage, or if you'd like to check on scheduled events, look for an information booth along the beach.
Back to: Paris Plage - Introduction
---
---