Paris RER train strike (Spring, 2018)
If you're planning to take RER commuter rail to or from Charles de Gaulle airport between now and the end of June, be aware that strikes may affect the train schedule. Fortunately, we can suggest alternative means of CDG airport ground transportation.
Archived Article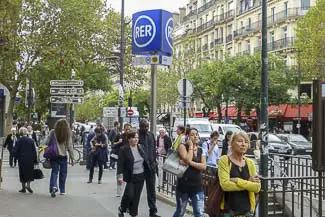 ABOVE: An RER station on the Left Bank.
Paris railroad workers have been staging a series of rolling strikes this spring, with strikes interrupting or slowing train service for two or more days each week.
The strikes affect a few sections of the RER commuter network around Paris, including the RER "B" line section between the Gare du Nord in northern Paris and Charles de Gaulle Airport (which is operated by French railroad workers).
On strike days, you'll need to change trains at the Gare du Nord or--better yet--use an alternative mode of transportation. (See our Paris Charles de Gaulle Airport Transportation article for information on buses, shuttles, and taxis.)
For a good overview of the strike with planned strike dates through June, 2018, click here.
The official French Railways Web site offers up-to-date information on strikes within the next 48 hours or so, along with links to iOS and Android phone apps with up-to-date announcements. Air France also has a few days of strikes in the works; see The Local's strike calendar, which shows both rail and air strike days.