Paris Sewers Museum
Page 2
Continued from page 1
More photos of the Paris Sewers Museum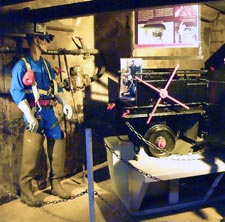 ABOVE: Mannequin of a sewer worker with an antique grit-removal cart.
---

ABOVE: Sewer-boat model in the Belgrand gallery.
---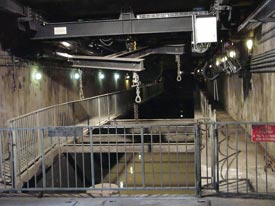 ABOVE: The main basin in the Brunesau gallery, which traps solid material for removal by a dredger.
---
An underground souvenir: Paris Secret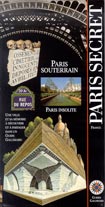 When you're browsing through the souvenirs in the Musée des égouts de Paris gift shop, pull out your credit card or a 20-euro note and buy Paris Secret, a French-language guide to subterranean Paris.
The attractively designed and beautifully printed book is packed with photographs, illustrations, historic paintings, and text on everything from the sewers of Paris to the Mètro and RER to archaeological excavations beneath the city. (Even if you don't read French, Paris Secret is worth buying for the pictures alone.)
Paris Secret is from Guides Gallimard, whose city guidebooks of the same format are published in English as the Knopf Guides.