Paris Sightseeing Boats
Page 5
Continued from page 4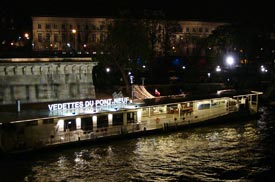 ABOVE: The Vedettes du Pont-Neuf pier at night. INSET BELOW: A daytime cruise.
Vedettes du Pont-Neuf

Most of the Seine River's sightseeing fleets operate from piers near the Eiffel Tower and Trocadéro. The Vedettes du Pont-Neuf are a conspicuous exception: They depart from a pier on the Ile de la Cité, within easy walking distance of locations in the 3rd, 4th, 5th, and 6th arrondissements.
One-hour sightseeing cruises operate year-round, with a good selection of day and evening departures in all seasons.
The company's sightseeing boats have 150 to 550 seats, and a smaller vessel--the Sisley--carries 50 to 72 passengers for dinners and charters.
Walk-up ticket prices for sightseeing cruises were a bit higher than competitors' fares the last time we checked, but you can save four to five euros by booking on the Web.
Location:
The Vedettes du Pont-Neuf pier and snack bar are at the western tip of the Ile de la Cité, where a staircase leads down from the Pont-Neuf bridge.
Departure times and prices:
Next page: Batobus water bus (from "Paris Sightseeing Buses")
---
---
---
---
---