Paris Taxis
Page 2
Continued from page 1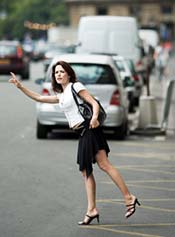 ABOVE: You can hail a cab in Paris, but walking to the nearest taxi stand may be quicker and easier. (A taxi stand or rank is easy to recognize: You'll see a line of cabs and the word "TAXI" in white on a blue sign.)
Paris Taxi links
Paris Tourist Office: Taxis and chauffer-driven vehicles
This detailed page is from the Paris Convention and Visitors Bureau's Web site.
Les Taxis Bleus
The largest taxi company in Paris represents some 3,000 drivers. It accepts telephone calls and online bookings.
World Taximeter: Paris
Calculate an estimated fare before you call for a cab. (You can enter street addresses or pick from a list of airports, train stations, and tourist landmarks.)
Taxi-Paris.net
This site includes a list of Parisian taxi ranks (a.k.a. cab stands) with phone numbers, taxi fares and surcharges, and other useful information.
Photo copyright © Franck Camhi.