Ryanair Paris Airport Bus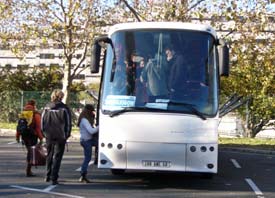 ABOVE: Buses between Beauvais Airport and Porte Maillot in Paris are timed to meet Ryanair flights. (This bus was connecting to Ryanair departures for Glasgow and Stockholm.)
Ryanair, the Dublin-based budget airline, offers some of the cheapest air fares to Paris. However, there's a catch: Ryanair flies into Beauvais Airport (BVA), which is 80 km or 50 miles outside the city.
Unless you fancy an expensive taxi or shuttle ride into Paris, your best bet for ground transportation is the Beauvais Airport Bus, which takes about 80 minutes to cover the distance between BVA and Porte Maillot in Paris (where you can transfer to the Métro or RER to reach your hotel).
Beauvais Airport to Paris
Buses from BVA to Paris run throughout the day, with departures shortly after incoming Ryanair flights.
Paris to Beauvais Airport
Officially, buses leave from the Porte Maillot 2˝ hours before scheduled Ryanair departure times. However, to be sure of getting on a bus, you should arrive at least 3 to 3˝ hours before your flight. (Allow a few extra minutes to walk from the Porte Maillot Métro or RER station to the bus parking lot.)
For more information on BVA ground transportation (including fares, how to purchase bus tickets, where to find the buses in Paris, and alternatives such as shuttles and SNCF trains), see our Beauvais Airport Transportation article.