Walking to Sacré-Coeur: From the Anvers Métro stop, take the Rue Steinkerque to the base of the sacred hill. The distance is only about two blocks, and the busy little street has a certain gritty charm with its mixture of cheap clothing stores, discount fabric merchants, and souvenir shops. (We rented a furnished holiday apartment on the Rue Steinkerque a while back.)
At the base of the hill, you'll find a merry-go-round and a flight of steps leading up to the next level.
---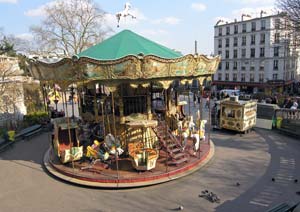 If you've got kids with you, they'll probably want a ride on the carousel in the Square Willette, just beyond the wrought-iron fence at the Place St-Valadon and the Place St-Pierre.
---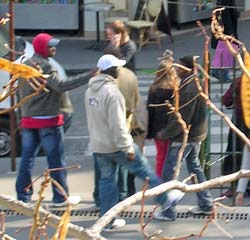 Don't be intimidated by the "string men" who'll approach you and try to wrap your wrist in a string bracelet. Just say "Non, merci" firmly and keep moving (unless, of course, you want a string bracelet and are willing to pay whatever the scammer demands).
---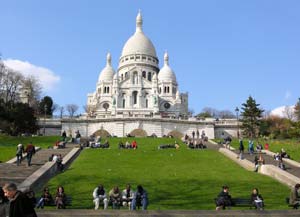 From the Square Willette, staircases lead up to a sidewalk with benches; from there, curved steps on either side continue up to the platform in front of Sacré-Coeur.
---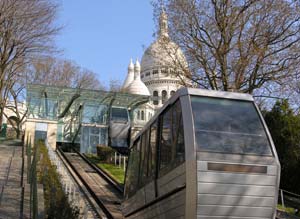 Another way up the hill is on the Montmartre Funicular, which costs one Métro ticket in each direction. You'll still need to climb a flight of steps to enter the Basilica of Sacré-Coeur.
---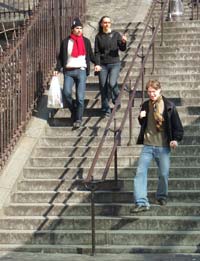 If, like us, you're too thrifty or proud to ride the Montmartre Funicular, you can walk up--or down--the staircase that parallels the steep tracks. The steps are especially convenient when you want to bypass the Sacré-Coeur crowds on your way to the neighborhood on top of the Butte.
---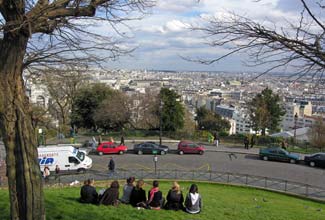 Sacré-Coeur and the park below it offer views to the Seine and beyond.
---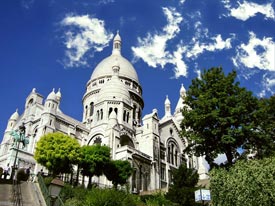 This April view of Sacré-Coeur was taken by Richard Rogers.
---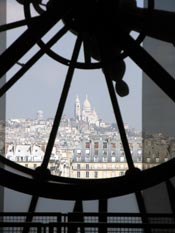 Ogen Perry took this photo of Sacré-Coeur and the Butte Montmartre through a window of the Musée d'Orsay on the Left Bank of the Seine.
---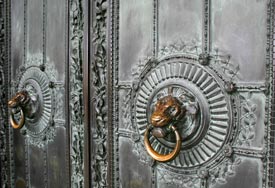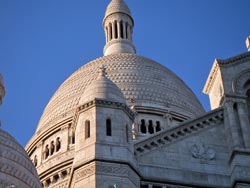 Mike Harrison shot the picture of Sacré-Coeur's massive doors; the detail photo of the dome is by Mark Jensen.
---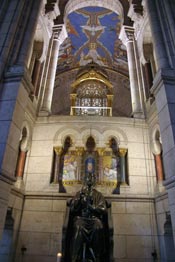 Michel Mory's two photos show the interior of the Basilique du Sacré-Coeur de Montmartre.
---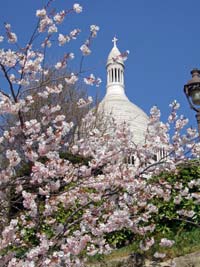 In spring, the slopes below Sacré-Coeur are covered with flowers and blossoming trees.
Café-restaurant suggestion: From the right side of Sacré-Coeur, head downhill through the park to a little square where you'll see a café-tearoom named L'Eté en Pente Douce (after the French movie of the same name).
In warm weather, you can enjoy drinks, ice cream, or snacks at the handful of small tables beneath the large tree in front of the café--and at any time of year, the sheltered entrance foyer and handsome interior are a great place to enjoy a reasonably-priced and interesting meal served by a friendly staff.
Back to: Sacré-Coeur - Introduction