Sainte-Chapelle
Page 2
Continued from page 1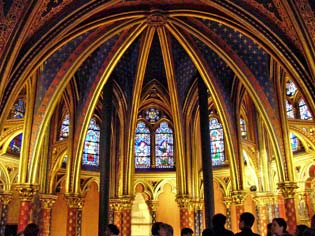 ABOVE: The apse in the Lower Chapel. BELOW: Ceiling with fleur-de-lis pattern, and decorated columns. (Click each small photo for a larger view.)
Lower chapel
When you enter Sainte-Chapelle, your first stop will be the chapelle basse, or lower chapel, which was dedicated to the Virgin Mary and used as a place of worship by members of the court.
Clusters of slender columns support the arches of the vaulted ceiling, which is only about 7 meters or 23 feet high.
The polychrome decorations date from Sainte-Chapelle's restoration in the 1800s, but they're based on medieval designs.
The deep blue ceiling with its fleur-de-lis patterns, and the painted columns with their gilded fleur-de-lis and Castilian castle motifs, show that Gothic architecture could be anything but cool and monochromatic.
(For more evidence of the medieval predilection for color, visit the cathedral in Regensburg, Germany, where you can still see traces of the original bright pigments on columns and other parts of the stone interior.)
Next page: Upper Chapel
---
---