Sainte-Chapelle
Page 4
Continued from page 3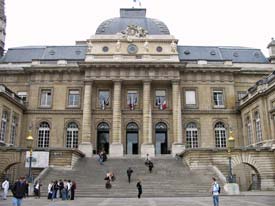 PHOTO: Sainte-Chapelle's visitor entrance is on the Boulevard du Palais, to the left of the Palais de Justice (shown above).
Visitor information
Sainte-Chapelle is in the Palais de la Cité, the medieval royal-palace complex that is now mostly occupied by the Palais de Justice (see photo above). Nearby is the Conciergerie, with the medieval prison where Marie-Antoinette and some 2,700 other victims were held and tried before being sent to the guillotine during the French Revolution. (A combined ticket is available for both monuments.) You can easily tour Sainte-Chapelle, the Conciergerie, and the area around Nôtre-Dame Cathedral during a half-day visit to the Île de la Cité.
To reach Sainte-Chapelle, take Métro Line 4 to the Cité stop and walk a block up the Rue de Lutèce to the Palais de Justice. The entrance to Sainte-Chapelle is to the left of the Palais and its gilded iron gates.
Alternatively, you can take the RER to St-Michel - Nôtre Dame and walk away from the cathedral toward the Boulevard du Palais. From the St-Michel Métro stop on the Left Bank, cross the Pont St-Michel to the island; from the Hôtel de Ville stop on the Right Bank, walk across the Pont au Change. Sainte-Chapelle is almost exactly in the middle of the island as you walk along the Boulevard de Palais from either direction.
Another transportation option is the Batobus, which stops on the Left Bank across from Nôtre-Dame.
Admission: Buy a ticket or show your Museum Pass, go through the metal detector, and head inside. Grab a free English-language brochure that will guide you through the church. (Start with the lower chapel, then follow the spiral staircase to the upper chapel with its stained-glass windows.)
Concerts: Classical-music concerts take place frequently from mid-March into October. Search the "What's On" music listings at Parisinfo.com or check the notices inside Sainte-Chapelle's entrance to see what's scheduled during your visit.
Web links
Sainte-Chapelle - Centre des Monuments Nationaux
The chapel's official Web site has an English-language history, visitor information, and more.
Sainte-Chapelle (Wikipedia)
This one-page article is a readable introduction to the chapel's history. Also see the article on Louis IX of France.
Back to: Sainte Chapelle - introduction
---
---