---

---

If you're arriving or departing at CDG Airport between now and the end of June, TAP HERE for strike information.
---
Opéra Garnier
Page 2
Continued from page 1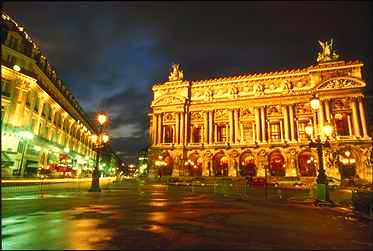 ABOVE: The Place de l'Opéra and Palais Garnier at night.
Opéra Garnier visitor information
Hours: 10 a.m. - 5 p.m. (usually until 6 p.m. from mid-July until early September). Closed during performances, and the last admission is 30 minutes before the building closes.
We suggest allowing at least an hour, and preferably longer, for your visit.
Admission: €10 for adults, reduced rates for students, children under 10, and other special groups.
Once you've bought your ticket, you'll be able to explore the lobbies, foyers, auditorium, and museum. (Caveat: Occasionally the auditorium is closed for technical reasons or rehearsals, so you may want to call ahead or check at the ticket counter.)
Tours: Guided tours are offered in English sevedral times a week. See the Web site (link below) for a current schedule and booking information.
Location: The Palais Garnier occupies the north side of the Place de l'Opéra in the 9th arrondissement. It faces the Avenue de l'Opéra, which angles through the 1st and 2nd arrondissements until it reaches the Louvre.
Transportation: The closest Métro station is Opéra, which you can reach on Lines 3 (pea-green on the official RATP Métro map), 7 (pink), and 8 (lavender). The nearest RER stop is Auber, on Line A. Bus lines also serve the area; routes are shown on the RATP Paris Tourisme map and the pocket-size Plan de Poche map, which are free at Métro and RER stations.
Nearby attractions: The Opéra Garnier is close to Fragonard's Perfume Museum (free admission) and Paris Story, an audiovisual show that may be of interest if it's raining or your feet need a rest.
For more information: See the Palais Garnier's multilingual visitor pages.
Back to: Opéra Garnier
---
---
---

---
---
| Europe for Visitors - Home |
| Contact information, disclosures, audience |
| Privacy, cookies |

Copyright © 1996-2017 Durant and Cheryl Imboden. All rights reserved.