---
Parc des Buttes-Chaumonts
Page 2
Continued from page 1
More Photos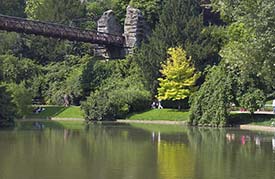 A suspension footbridge runs from a hill in the Parc des Buttes-Chaumonts to an island in the center of the lake.
(The bridge has been closed for safety reasons, but you can still reach the island via a shorter bridge on the south side of the lake.)
---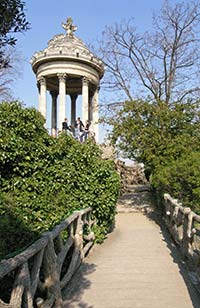 The Temple of Sybil is on top of the island's cliffs, 89 meters or 292 feet high.
(Note the handrails on the bridge, which appear to be logs but were molded from concrete in the 19th Century.)
---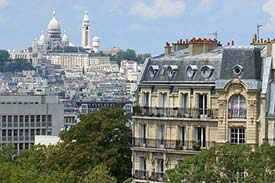 From the Temple, you can look northwest toward the Butte of Montmartre and Sacre-Coeur.
---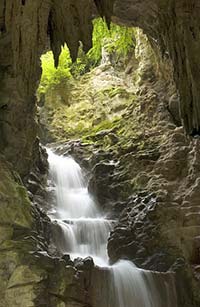 Jean-Charles Alphand and his workers used dynamite and concrete to sculpt this artificial waterfall between 1863 (when construction of the park began) and 1867 (when the Parc des Buttes-Chaumont was opened to the public).
Back to: Parc des Buttes-Chaumont - Page 1
---
---
---

---
---

| Europe for Visitors - Home |
| Contact information, disclosures, audience |
| Privacy, cookies |

Copyright © 1996-2018 Durant and Cheryl Imboden. All rights reserved.
Photos 1, 3, and 4 copyright © Paris Tourist Office. Photographer: David Lefranc.