---
Paris Sightseeing Boats
Page 7
Continued from page 6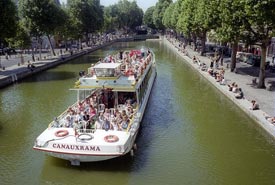 ABOVE: Canauxrama offers 2½-hour cruises on the Canal Saint-Martin.
Canauxrama
The Canal Saint-Martin, a.k.a. the St-Martin Canal, runs 4.5 km or 2¾ miles between the Ourcq Canal and the Seine.
The canal opened in 1825, during the reign of Napoleon III, to reduce barge congestion on the Seine while diverting potable water into the city from the Ourcq Canal.
In its heyday as a navigable waterway, the St-Martin Canal was used by more than 4,000 barges each year. Nowadays the canal is a popular recreation spot for Parisians.
Canauxrama operates St-Martin Canal cruises with two boats: the Arletty and the Michel-Carné, which run between the Place de la Bastille and the Parc de Villette at the northern edge of the 10th arrondissement.
The leisurely one-way cruise takes 2½ hours, with several departures per day.
Canauxrama also offers day cruises on the Seine, the Ourcq Canal, and the River Marne during the warmer months.
Location:
Canauxrama's St-Martin Canal cruises leave from either the Arsenal Marina or the Bassin de la Villette.
For directions and a map, and for information on other Canauxrama cruises, see the link below.
Departure times and prices:
Related article:
St-Martin Canal Cruises
Our illustrated article describes a Canauxrama cruise from the Bassin de la Villette to the Arsenal Marina.
Next page: Paris Canal
---
---
---
---
---

---
---

| Europe for Visitors - Home |
| Contact information, disclosures, audience |
| Privacy, cookies |

Copyright © 1996-2019 Durant and Cheryl Imboden. All rights reserved.
Photo copyright © Paris Tourist Office. Photographer: Catherine Balet.