---

---

If you're arriving or departing at CDG Airport between now and the end of June, TAP HERE for strike information.
---
Paris Sightseeing Boats
Page 9
Continued from page 8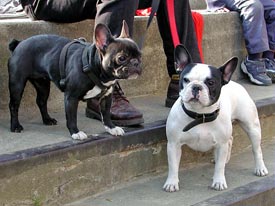 ABOVE: Dogs enjoy a view of the St-Martin Canal in northeastern Paris.
More boat cruises (with food)
Marina de Paris
Lunch cruises (Friday to Sunday only) and two daily dinner cruises leave from a pier below the Musée d'Orsay. Prices are moderate.
Yachts de Paris
If you're willing to spend €180 or more for a meal (apéritifs and wine extra), here's your chance to experience the yachting life on a vintage vessel, the Don Juan II.
Croisière Paris
A two-hour dinner cruise aboard the Capitaine Fracasse takes you past the usual sites and sights in central Paris. Prices are lower than on most competitors' boats.
For more information on eating and cruising on the Seine, see our Paris Dinner Cruises article.
Back to: Introduction - page 1
---
---
---
---
---

---
---
| Europe for Visitors - Home |
| Contact information, disclosures, audience |
| Privacy, cookies |

Copyright © 1996-2017 Durant and Cheryl Imboden. All rights reserved.
Photo copyright © Paris Tourist Office. Photographer: Catherine Balet.