---
Sainte-Chapelle
Page 3
Continued from page 2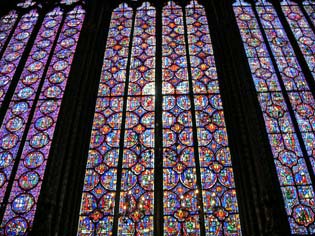 ABOVE: Side windows in the upper chapel. BELOW: The apse, stained-glass detail, and--at bottom right--the vaulted ceiling with gold stars on a blue background.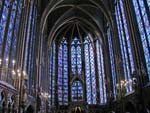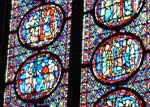 Upper chapel
A spiral stone staircase leads to the chapelle haute, or upper chapel, where Louis IX worshipped with his family when he wasn't occupied with the Crusades.
Stained glass is the main attraction in the upper chapel. The official leaflet from the Centre des monuments nationeaux describes the chapel's ambience:
"The ceiling sems to float above the stained-glass windows. The massive buttresses have all but disappeared, masked by clusters composed of nine delicate columns, so placed that the mass of each pillar is barely perceptible."
The ceiling is 20.5 meters or 67 feet high, but it seems even loftier because it's nearly twice the chapel's width of 17 meters or 34 feet.
To enjoy the full effect, sit in one of the chairs along the side of the chapel, where you can gaze upward without straining your neck.
You'll also notice statues of the Apostles in the niches (these were added in the 14th Century), but don't go looking for the Crown of Thorns or the Piece of the the True Cross that Louis IX bought for his collection of Christian trinkets.
The relics were taken from Ste-Chapelle during the French Revolution. (Some are in Nôtre-Dame's treasury, while others are at the Bibliothèque Nationale.)
Next page: Visitor information
---
---