---
Canal St-Martin Cruise Photos - 2
From: St. Martin Canal Cruises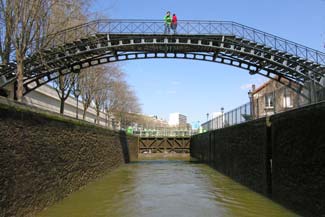 This view shows a typical lock on the St-Martin Canal with a pedestrian bridge overhead.
---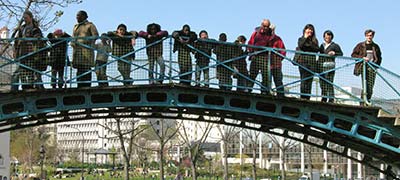 Passersby often gather on the bridges as the canal boat goes underneath. (Children from this school group were waving at boat passengers before the photo was taken.)
---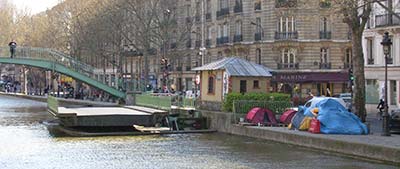 The former industrial and working-class neighborhoods along the canal have been gentrified, but the canal's banks attract homeless people who set up camp on the quays.
In December, 2005, Médicins du Monde (Doctors of the World) began distributing the first of several hundred tents to homeless people as a protest tactic. The organization wants the French government to create more emergency housing for the homeless, with 24-hour access and no maximum length of stay.
---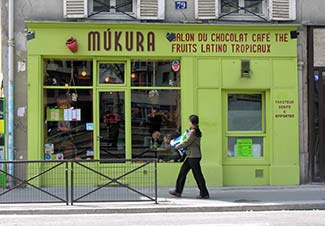 Other sights along the canal are less discomfiting to middle- and upper-class cruisers: among them, the Mukura Salon du Chocolat on the Quai de Valmy in the 10th arrondissement.
---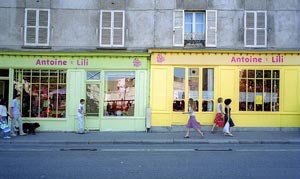 The Quai de Valmy branch of the trendy Antoine & Lili clothing chain is another popular destination along the Canal Saint-Martin.
---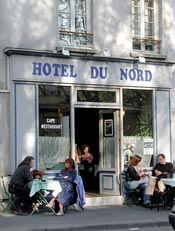 The Hotel du Nord was featured in the 1940 movie of the same name. The building, which dates back to 1885, is now a popular restaurant. It's located on the Quai de Jemmapes, about halfway down the open-air section of the Canal Saint-Martin and just after the canal's first major curve.
---
---
---

---
---

| Europe for Visitors - Home |
| Contact information, disclosures, audience |
| Privacy, cookies |

Copyright © 1996-2019 Durant and Cheryl Imboden. All rights reserved.