---
Paris Buses
Page 3
Continued from page 2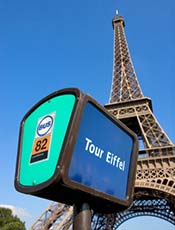 ABOVE: A No. 82 bus stop at the Eiffel Tower.
How to ride Paris buses
Wait at the bus stop, which will have either a shelter or a signpost. (Some stops have electronic signs that display bus numbers and waiting times.)

When the bus arrives, board at the front.

Validate your white cardboard T+ ticket immediately in the stamping machine, or buy a ticket from the driver if you don't have one.

When you're ready to get off the bus, press the nearest red button to activate the "stop requested" sign. (You'll see red buttons scattered throughout the bus.)

Leave the bus through the rear doors.
Note:
If you're traveling with the Paris Visite pass, follow the validation and usage instructions in the accompanying booklet. Do not insert the pass's ticket in the stamping machine on the bus; show it to the driver instead.

The "how to" instructions on this page apply to standard Paris city buses, which can be identified by their route numbers.
Next page: Paris bus and transit links
---
---
---

---
---

| Europe for Visitors - Home |
| Contact information, disclosures, audience |
| Privacy, cookies |

Copyright © 1996-2019 Durant and Cheryl Imboden. All rights reserved.
Photo copyright © Patrick Breig.