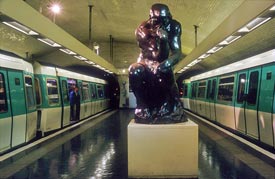 ABOVE: Two trains frame a Rodin replica in the Varennes Métro station. INSET: Tile sign on a station wall.
Practical advice
RATP
RATP, the public-transportation network of Paris, has a route finder, maps, timetables, and other information.
History, commentary, and photos
Métro Insolit
If you're a railfan who reads French, Clive Lamming's beautifully illustrated book about the Paris Métro deserves a place in your collection.
Railfaneurope.net Picture Gallery: Paris Métro
Click the subdirectory links to view thumbnails and full-size images.
Amtuir
The Musée des Transports Urbains, Interurbains, et Ruraux has a collection of 170 historic vehicles (some dating back to 1863) that are in storage while the museum waits for a new site and funding.
That Time the Paris Metro Was Segregated by a Class System
Until 1991, high rollers could avoid the sweaty hoi polloi by traveling in a first-class car.
Back to: Paris Métro - introduction
---
---