---
Orly Airport Buses
From: Orly Airport Transportation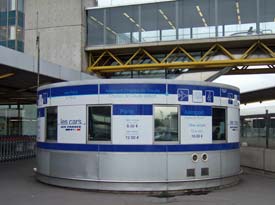 ABOVE: The outdoor ticket office for Les Cars Air France at Orly-Sud terminal.
Orly Airport Buses
Le Bus Direct
Line 1 of Le Bus Direct Paris Aéroport (formerly Cars Air France) connects the Sud and Ouest terminals with the Gare Montparnasse, Eiffel Tower, Trocadéro, and Étoile Champs Élysées every 20 to 30 minutes from around 5 a.m. until late at night. Minimum travel time is 20 to 50 minutes, depending on your destination.

Line 3 runs between Orly and CDG, with departures every 20 to 30 minutes and an average travel time of 7o to 80 minutes.

Buses are air-conditioned and have luggage compartments where the driver will stow your bags.
For current fares and timetables, visit Le Bus Direct.
Orlybus

RATP's Orlybus is a long articulated city bus that runs from the Sud and Ouest terminals to the Métro and RER stop at Denfert-Rochereau. Buses depart every 8 to 15 minutes from early in the morning until late at night, and the trip takes about 25 to 30 minutes.
The fare for a paper ticket is €9.50. Buy your ticket at the RATP desk in the terminal or from the driver. (On this route, you'll need to haul your bags into the bus and pile them on the luggage rack.)
You can save money if you put the fare on an RATP stored-value card such as Navigo Easy: the fare for electronic tickets is only €8,30.
Shuttle bus to RER Line C
A shuttle bus runs connects the Sud and Ouest terminals with the Pont de Rungis-Aéroport d'Orly station of RER Line C, where a commuter train will take you along the Left Bank to the Gare d'Austerlitz, St-Michel/Nôtre-Dame, the Invalides, and the Eiffel Tower.
Other RATP services from Orly
For up-to-date information on all public bus and train services from Orly, see this page at the RATP Web site and scroll down to the Orly section.
Use your Paris Visite Card
The 1- to 5-zone Paris Visite card is good on all of the services above, except for Les Cars Air France. (The cheapest Paris Visite pass, which covers only Zones 1 to 3, does not cover airport transportation.) The Navigo pass ("all zones") is also valid.
Next page: Orly airport taxis and shuttles
---
---
---

---
---

| Europe for Visitors - Home |
| Contact information, disclosures, audience |
| Privacy, cookies |

Copyright © 1996-2020 Durant and Cheryl Imboden. All rights reserved.