---
Paris RER (2019)
Page 3
Continued from page 2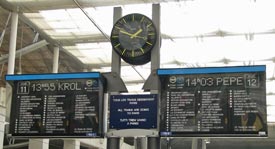 ABOVE: Electronic signs above the RER platforms of Terminal 2 at Charles de Gaulle Airport.
Paris RER Web links and related articles
RATP
RATP, the public-transportation network of Paris, has a route finder, maps, and other information in half a dozen languages (including English).
Wikipedia: RER
This article from Wikipedia, the free encyclopedia, gives a short history of the Réseau Express Régional and briefly describes the five RER lines.
Paris Métro parisforvisitors.com
The Paris underground system has 14 lines, 380 stations, and 130 miles or 211 km of track. Our article describes how to buy tickets and ride the trains.
Charles de Gaulle Airport Ground Transportation parisforvisitors.com
RER Line B connects CDG with central Paris. Our illustrated article tells how to take the train, or--if you prefer--how to reach the city by bus, shuttle, or taxi.
Orly Airport Ground Transportation parisforvisitors.com
Our Orly article tells how to reach Paris via links to the RER and other transport modes.
Back to: Page 1
---
---
---

---
---

| Europe for Visitors - Home |
| Contact information, disclosures, audience |
| Privacy, cookies |

Copyright © 1996-2019 Durant and Cheryl Imboden. All rights reserved.