Paris > COVID-19
"Is Paris open for travel?"
If you're considering a trip to Paris or France in the wake of COVID-19, read this before making plans.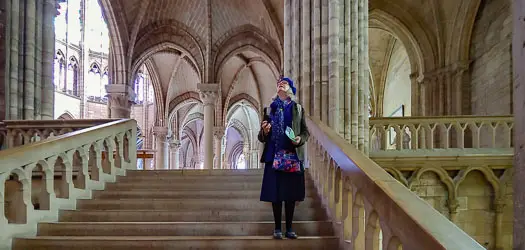 ABOVE: To minimize your exposure to coronavirus, try visiting places that don't attract crowds--such as the Cathedral Basilica of St-Denis, the burial place of French kings and queens. It's an easy Métro ride from central Paris.
By Durant Imboden
Updated December 19, 2021
As Omicron and other COVID-19 variants sweep through Europe, France and other governments in the EU are trying to find a balance between slowing the pandemic and opening their countries to visitors. For general country-by-country information, see the European Union's Re-open EU Web site and the British government's Entering the UK page.
In France, the government currently requires a "Green Pass" digital certificate or other acceptable proof of vaccination for attendance at public events, visiting museums, drinking or dining at restaurants and cafés, and various other activities.
For more information about travel to France, see the French Government Tourist Office's COVID-19 page (and be aware that it may not be fully up to date at any given moment).
Our advice for planning a visit to Paris:
If you've been thinking of a Paris trip in the immediate future, we suggest changing your plans--not just to mitigate the risk of infection, but also to avoid restrictions that could spoil your visit.

If you're in a high-risk group (e.g., over 60, especially with underlying health problems), use common sense in deciding whether, when, and where to travel. The coronavirus and its new variants won't disappear overnight, and while France has one of the world's best health-care systems, a COVID-19 infection could be life-threatening.

When you book hotels, B&Bs, or apartments, make sure that your reservation can be canceled without penalty. (This year is a good time to avoid low prepaid, non-cancellable rates.) For maximum savings, keep an eye on rate changes and be prepared to cancel and rebook if you can get a better deal closer to your visit.

Tip: Hotel rooms are usually easier to cancel without penalty than apartments are.

Check airline sites for news of route reopenings and COVID testing rules, which are in flux as we write this.

Be aware of cancellation policies or change fees when you book your airline, train, or cruise tickets. Airline fares and other transportation tickets vary in their cancellation and change policies. If you can't afford a fully-refundable ticket, budget some money for ticket changes just in case. (Good news: Many airlines offer waivers on change fees during periods of severe weather, epidemics, etc.)

Don't expect travel insurance to protect you if you need to cancel your trip because of coronavirus fears. Most insurers are treating the current outbreak as a "known event" and are turning down coronavirus-related claims unless travelers have bought high-priced "cancel for any reason" plans.

Avoid prepaid sightseeing tours unless they're fully cancellable. Instead, book excursions when you come or immediately before.
Bottom line:
As of this writing, we think 2022 could be a good time to visit Paris if you want to enjoy the city with less crowding than usual. Our prediction assumes--perhaps too optimistically--that the COVID-19 pandemic will ease in the months ahead. (The situation could change at any time, so build as much flexibility as possible into your travel plans, and stay home if you're in a high-risk group.)
---