When will Paris (and France) reopen to tourists?
If you're considering a trip to Paris or France after the coronavirus crisis, read this before making plans.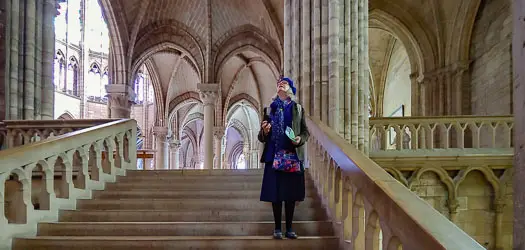 ABOVE: To minimize your exposure to coronavirus when Paris reopens to tourists, try visiting places that don't attract crowds--such as the Cathedral Basilica of St-Denis, the burial place of French kings and queens. It's an easy Métro ride from central Paris.
By Durant Imboden (May 17, 2020)
In the wake of Europe's "first wave" coronavirus pandemic, France has begun to relax the lockdown that was imposed on March 16. In Paris, most shops have reopened, the Seine embankments can be visited freely, and public transportation is being restored gradually.
Still, many restrictions remain: As of mid-May, French restaurants and cafés are still closed, along with entertainment venues such as movie theaters, nightclubs, and sports stadiums. Most public parks are still closed, although the Bois de Boulogne and Bois de Vincennes have reopened.
Transit passengers over the age of 11 are required to wear masks, and gatherings of more than 10 people are forbidden until June 2.
French borders will remain closed to foreigners at least until mid-June, Paris-Orly Airport remains closed, and Paris-Charles de Gaulle Airport has a drastically reduced schedule of flights.
Until further notice, tourists from outside the EU, the Schengen Zone, and the UK are forbidden to enter France. However, transit passengers from outside the EU are allowed to change planes at Paris CDG.
(The restriction on travel from within the European area will likely end on June 15, but it could be months--possibly as late as early October--before tourists from outside Europe and the UK will be allowed in.)
Our advice for planning a visit to Paris when France reopens for tourism:
If you're in a high-risk group (e.g., over 60, especially with underlying health problems), use common sense in deciding whether, when, and where to travel. The coronavirus won't disappear overnight, and while France has one of the world's best health-care systems, a COVID-19 infection could be life-threatening.

When you book hotels, B&Bs, or apartments, make sure that your reservation can be canceled without penalty. (This year is a good time to avoid low prepaid, non-cancellable rates.) For maximum savings, keep an eye on rate changes and be prepared to cancel and rebook if you can get a better deal closer to your visit.

Tip: Hotel rooms are usually easier to cancel without penalty than apartments are.

Be aware of cancellation policies or change fees when you book your airline, train, or cruise tickets. Airline fares and other transportation tickets vary in their cancellation and change policies. If you can't afford a fully-refundable ticket, budget some money for ticket changes just in case. (Good news: Many airlines offer waivers on change fees during periods of severe weather, epidemics, etc.)

Dont expect travel insurance to protect you if you need to cancel your trip because of coronavirus fears. Most insurers are treating the current outbreak as a "known event" and are turning down coronavirus-related claims unless travelers have bought high-priced "cancel for any reason" plans.

Avoid prepaid sightseeing tours unless they're fully cancellable. Instead, book excursions when you come or immediately before.
Bottom line:
If you've already booked a trip for 2020, check with your airline, hotel, cruise line, etc. to learn their plans and what your options are. You may need to rebook.

As of this writing, we think early 2021 could be a great time to visit Paris if you want to enjoy the city with less crowding than usual. Our prediction assumes that the coronavirus pandemic has faded, tourism has resumed, and you aren't in a high-risk group. (The situation could change at any time, so build as much flexibility as possible into your travel plans.)