As you walk toward La Città dell'Acqua from the Fountain of Trevi, you should encounter these and other directional signs.
La Città dell'Acqua is alongside and beneath the Cineteca Nazionale's Alberto Sordi screening room, which has small windows overlooking the excavations.
Look for a portable sign outside the Città dell'Acqua entrance.
After you've paid an admission fee of several euros, you'll go down a staircase to the excavations.
Well-lit walkways and stairs make it easy to see the ruins of a 4th Century Roman domus (which was built on the site of even older insulae, or apartment dwellings). You'll also see water flowing from ancient Roman pipes that once fed the nearby Fountain of Trevi.
During their excavations from 1999 to 2001, archaeologists uncovered Roman statues, bronze coins, amphorae (flasks), and other ancient objects. Both the objects and the ruins are accompanied by detailed information in Italian and English.
---
La Città dell'Acqua
Vicus Caprarius · The City of Water
By Durant Imboden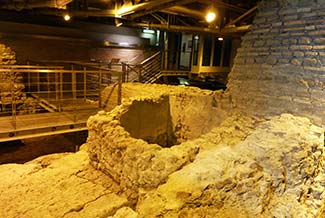 ABOVE: A walkway leads through the excavations of "La Città dell'Acqua."
La Città dell'Acqua (in English, "The City of Water") is an archaeological site just south of the Piazza di Trevi in Rome.
The site was uncovered in 1999 during construction of the Cineteca Nazionale's Sala Cinema Alberto Sordi in the former Cinema Trevi.
Over a three-year period, archaeologists excavated 400 m² (4,300 square feet) of rubble that covered a 4th Century Roman mansion (built on the site of two insulae, or communal dwellings), and a section of an acqueduct--the Acqua Vergine--that connects to the nearby Fountain of Trevi.
Thanks to a partnership between public authorities and Italy's Gruppo Cremonini, the ancient Vicus Caprarius has been restored and opened to the public.
What you'll see:
You enter La Città dell'Acqua at street level.
A staircase leads to the downstairs lobby, where you pay a modest admission fee before taking another set of stairs to the underground ruins.
There, below the Mondadori Trevi bookstore and the Sala Cinema Alberto Sordi, you'll find remnants of the 4th Century domus, water running from ancient Roman pipes, and items (such as bronze coins and amphorae, or terracotta flasks) that were uncovered during the excavation.
La Città dell'Acqua is well-designed, with detailed exhibit labels in Italian and English.
Modern, well-lit stairs and walkways lead you through the ruins, which are well worth a short detour after you've paid your obligatory visit to the Fontana di Trevi just up the street.
Visitor information:

La Città dell'Acqua is at Vicolo del Puttarello 25.
From the Piazza di Trevi (site of the Trevi Fountain), exit from the east side of the square, turn right, and walk a few meters to the Vicolo dei Modelli.
Turn left onto the Vicolo dei Modelli, then turn right at the next corner. La Città dell'Acqua is mid-block. (See Google satellite map and zoom in for a better view.)
When we last checked, hours of operation were:
Monday: 4 to 7:30 p.m.
Tuesday: By appointment only.
Wednesday to Sunday: 11 a.m. to 5 p.m.
For more information in Italian, including current hours and admission fees, visit the Spazio Cremoni al Trevi Web site and click "Area archeologica Città dell'Acqua."
To see more photos of La Città dell'Acqua, go to page 2 of this article.