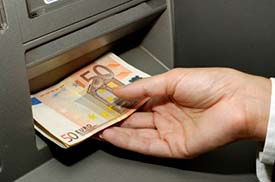 1. Get cash. If you don't have any euros, we'd suggest withdrawing cash from a bancomat or ATM in the terminal.
---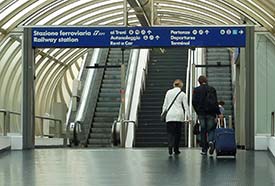 2. Go to the airport's railroad station. In the corridor outside baggage claim, look for blue overhead signs that show trains and other forms of transportation.

Follow the train signs, which will lead you (via escalators and an elevated tunnel) to the Stazione Ferroviaria or railroad station, which is in the same direction as the parking garages and the Hilton airport hotel.
---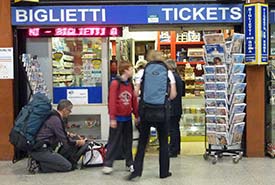 3. Buy a ticket. You can purchase biglietti from the green Trenitalia ticket machines, at the biglietteria or ticket counter, or--even more conveniently--at the newsstand/tobacconist in the station (shown above).
The ticket machines and the railroad's ticket counter accept credit cards; at the newsstand, where customers are likely to be in a hurry, we'd suggest paying the €14 fare in cash.
If you prefer, you can order e-tickets online, though you'll need to register with the Trenitalia Web site to use this option. (Two types of e-ticketing are available: PDF files that you print, and paperless tickets for your smartphone.)
---
4. Validate your ticket. Be sure to validate your ticket by inserting it in one of the machines on or near the platforms. If you're caught riding the train with an unvalidated ticket, you can be slapped with a fine of €50 (payable on the spot) plus the standard fare.
---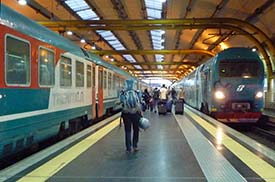 5. Board the train. The Leonardo Express is a single-level train with a distinctive livery and the name "Leonardo Express" painted on the cars. All carriages are first class, so you can board by any door. (If the door is closed, press the round button to open it.)
---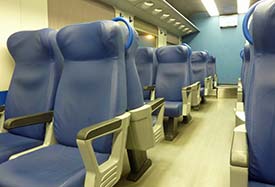 6. Enjoy the ride. The Leonardo Express departs from the airport at 5 or 35 minutes past the hour. It won't stop until you reach Termini Station, 31 minutes after leaving the airport. When you exit the train, remember to take everything with you--including any bags that you may have placed under or between the seats, in the overhead rack, or in the baggage area at the end of the car.
The Leonardo Express arrives near the back of Stazione Termini, so you'll need to walk five or ten minutes to the front of the station to find the Metro, buses, and taxis.