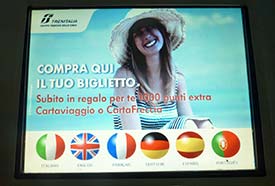 1. Buy a ticket. Tickets are available at Terminia's biglietteria or ticket office (where the lines are often long), at independent vendors such as travel agencies and newsstands, from Trenitalia's multilingual touch-screen "Biglietto Veloce" ("Fast Ticket") machines, or online.

You can also buy your ticket from a desk near the trains, but you'll pay an extra euro for the convenience, and you may have to wait in line behind other tourists who didn't plan ahead. (Don't risk this in the early morning or late at night, when the "Controllo Biglietti" or "Ticket Check" desk may be unmanned.)
---

2. Go to the Leonardo Express platforms. Follow the overhead signs that read "Terminal Fiumicino Aeroporto," which will lead you to Tracks 23-24 near the back of the station on the right-hand side as you enter from the front. It's a long walk, so allow 5-10 minutes to reach the trains.
When you reach the "Biglietto Controllo" or "Ticket Check" desk, you should see a Leonardo Express train waiting by the platform. (You can show your ticket to the agent if you wish, but you aren't required to do so--the agent is there mostly to sell tickets to tourists who arrive unprepared.)
---
3. Validate your ticket. Look for a small machine just beyond the "Biglietto Controllo" or "Ticket Check" desk.
Do not forget this step! If you ride the train with an unvalidated ticket, you're subject to a fine of €50 plus the price of the ticket.
---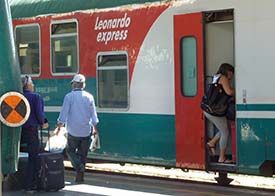 4. Board the train. The Leonardo Express is a one-class train without seat reservations, so you can sit in any car. (Keep your ticket handy--the conductor will check it during your journey.)
Travel time to the airport will be 32 minutes. (Trains leave at 15- to 30-minute intervals from early morning until late at night.)
---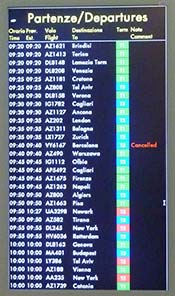 5. At Fiumicino Airport, look for the departures monitors. After leaving the train, walk to the tunnel just beyond the station.
You'll see a bank of vertical computer monitors that list "Partenze/Departures." Next to each departure is the number of the terminal where passengers need to check in. Identify your terminal, then follow the overhead signs to reach T1, T2, or T3.