Rome Fiumicino Airport
Page 4
Continued from page 3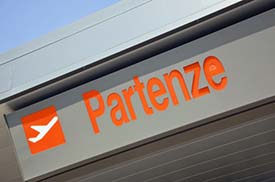 ABOVE: A departures sign in Italian.
Fiumicino Airport Web links
Aeroporti di Roma: Fiumicino
ADR's English-language Web pages can be confusing at first glance, but the site does have timetables and enough shopping information to keep you busy if you've won a lottery and are stuck at FCO.
Hilton Rome Airport
This comfortable, well-equipped hotel is connected to the terminals, shops, restaurants,and train station at Fiumicino Airport by an enclosed pedestrian bridge. It's by far the most convenient hotel for catching an early-morning flight from FCO. Although the hotel isn't cheap, our Booking.com link offers guaranteed lowest rates.
In Transit: FCO Terminal 5
Elisabeth Rosenthal wrote this article for The New York Times in 2008, when Terminal 5 (used for departing flights by U.S. airlines and El Al) had just opened.