Appenzell, Switzerland
Page 3
Continued from page 2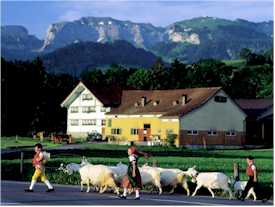 ABOVE: Subcompact Appenzeller cattle are led to pasture.
Practical information
Reaching Appenzell
The most enjoyable way to reach Appenzell is via the Appenzeller Bahnen railroad from St. Gallen or Gossau, both of which are on the main railway line from Z¨rich. The narrow-gauge cogwheel trains zigzag their way through the green countryside, gaining several hundred feet in elevation during their short but leisurely journey.
If you're traveling by car, two-lane roads from Herisau or St. Gallen will take you to Appenzell.
Tours and excursions
In summer and fall, it's usually possible to book guided excursions in and around Appenzell. You can watch cheese being made, tour the Alpenbitter liqueur factory free of charge, and take a walking tour of the historic town center.
Hotels
Appenzell has a number of pleasant, comfortable hotels in the town center. The Romantik Hotel Säntis, on the main square, may be the fanciest, but you're unlikely to go wrong in any of the hotels. (See Booking.com link below.)
Web links
For more information about Appenzell, see:
Appenzellerland
You'll find a wealth of information at the local tourist office's site.
Booking.com: Appenzell
Our booking partner is Europe's--and Switzerland's--largest reservations service, with competitive rates and user reviews by guests who have paid to stay in the hotels.
Back to: Appenzell - Introduction