La Chaux-de-Fonds History and Architecture
From: La Chaux-de-Fonds, Switzerland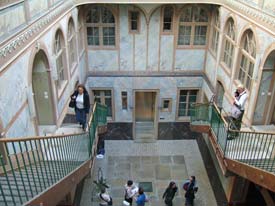 ABOVE: The atrium of l'Ancien Manège, a riding school that was converted to housing for workers' families in the 1860s. INSET BELOW: Le Corbusier's Turkish Villa and the Théâtre l'Heure Bleu.
La Chaux-de-Fonds before the fire
In medieval times, La Chaux-de-Fonds was a bucolic agricultural village in the Jura Mountains near the Swiss-French border. A publication of Tourisme Neuchâtel, the cantonal tourist office, explains what happened next:
"The Jura valleys' involvement in clockwork originated in the city of Geneva. Little did puritanical Calvin realize when he banned the wearing of jewelry there in the 16th Century that he would bring life to a craft that would become one of the most prestigious industries in the world! To ensure their livelihood, jewelers devoted themselves to clock- and watchmaking. This new handicraft very quickly spread throughout the Jura region, where local watchmaker-farmers developed unprecedented skills in the field of precision work....Today more than 30,000 persons are employed by the watch industry."
La Chaux-de-Fonds attracted Huguenot and Jewish watchmakers partly due to its relatively high elevation of 997 meters or 3,271 feet. Because the local growing season was short, farmers in La Chaux-de-Fonds and nearby towns were available for industrial work during much of the year. By the time Swiss watchmaking reached its peak in the late 19th Century, hundreds of small and large firms employed seasonal and full-time workers throughout the region.
From ashes to a modern town plan
After a fire destroyed two-thirds of Le Chaux-de-Fonds in 1794, the town's leaders decided on a new plan that was inspired by egalitarian principles from the French Revolution: The rebuilt town was based on New York's Manhattan, with long, wide streets that ran along the floor and parallel hillsides of the valley. This design guaranteed light and fresh air even in working-class apartment buildings, and it also minimized fire risk.
Italian opera and Jugendstil

Between 1794 and 1900, the population of La Chaux-de-Fonds increased from around 4,500 to more than 35,000, and the city center was filled with Art Nouveau dwellings, an Italian-style theatre, watch factories, public buildings, churches, and one of Switzerland's largest synagogues. (INSA, the Inventaire Suisse d'Architecture, lists several hundred buildings from the period between 1850 and 1920 alone.)
The earliest works of Le Corbusier
In 1900, Charles-Edward Jeanneret-Gris--the architect subsequently known as Le Corbusier--began an apprenticeship in engraving and carving at the Ecole d'art. After collaborating on several houses with the architect René Chapallaz, he opened his own firm and designed La Maison Blanche ("The White House" for his parents in 1912. In 1917, he built La Villa Turque ("The Turkish Villa") before moving to Paris.
Thanks to this remarkable architectural heritage, La Chaux-de-Fonds has been chosen as one of the eight most important cities on the Art & Architecture Theme Route of Switzerland Tourism. If you're a city planner, an architect, or an aficionado of urban design, spend at least one full day (or, better yet, two) in La-Chaux-de-Fonds during your next visit to Switzerland.
Tip: If you're a fan of the architect, look for an October, 2018 book titled Le Corbusier: The Built Work, by Richard Pare and Jean-Louis Cohen. The 480-page hardcover is billed as "the most thoroughgoing survey of nearly all of Le Corbusier's extant projects, beautifully photographed and authoritatively detailed."
Next page: Tourist information and sightseeing
---
---
---
---